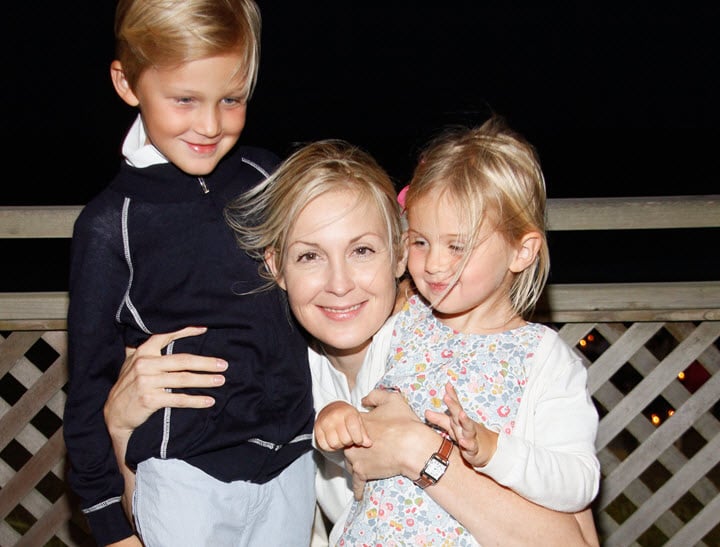 Kelly Rutherford's custody battle seems to be never ending.
People reports Judge Maren E. Nelson has halted last week's court order which called for the Gossip Girl actress' two children, Hermes, eight and Helena, five to be flown to Los Angeles by June 15th for a custody hearing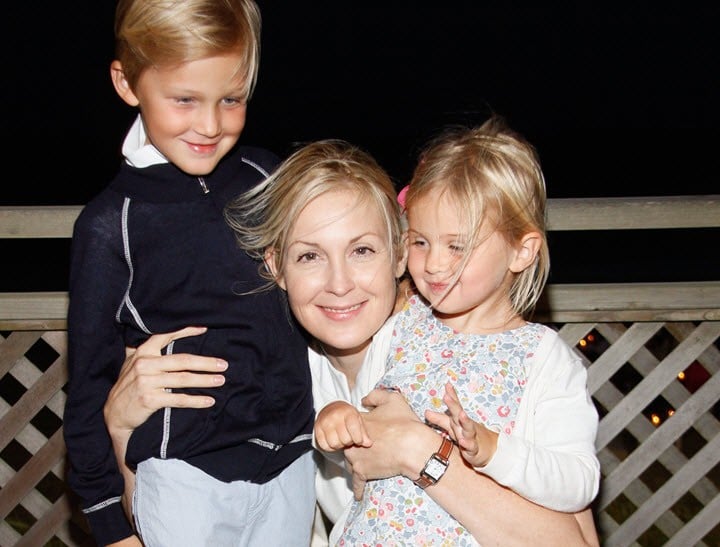 Rutherford's ex, Daniel Geirsch and his attorney are arguing that California should not have jurisdiction over the case. The believe the case should be heard in Monaco, where the children currently reside. According to People, Geirsch's Lawyer Fahi Takesh Halin says Rutherford made "fraudulent" claims in order to obtain sole custody of her children.
Hermes and Helena are no longer required to travel anywhere until June 11th, when judges from Monaco and the United States will meet to discuss how the case should proceed.
Rutherford's lawyer, Wendy Murphy told People, "the judge simply allowed the ex to have a hearing, which nobody objected to. It is unconstitutional for Monaco to impose citizenship or formal residency status on an American citizen who does not also enjoy citizenship in Monaco, just as it would violate Monaco's laws for this country to declare by judicial fiat that a Monaco citizen visiting this country, is suddenly an American citizen or a US resident. It simply cannot be done."
Previously Mamamia reported…
Gossip Girl's Kelly Rutherford has had a victory after a three-year emotionally draining custody battle.
It has been a three-year battle of hearts and emotions. But finally actress Kelly Rutherford has had a victory in her custody battle with ex-husband Daniel Giersch.
46-year old Rutherford has spent the past three-years fighting Giersch after their divorce  in 2009 and subsequent ruling three years later that the two children live in Europe with their father.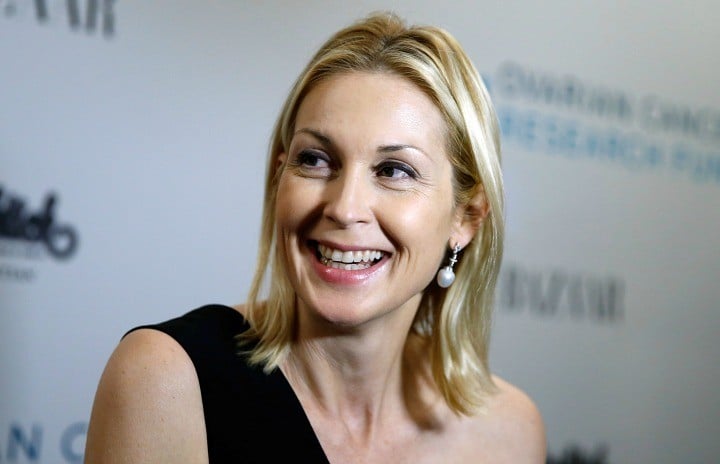 Now, according to a new court order issued Friday, the children aged six and eight must return to Los Angeles, and their mother will keep their passports.
A further hearing in LA where Rutherford, Hermes, Helena and Giersch or his representative are required to be present is scheduled for June 15.
Kelly's lawyer, Wendy Murphy, released this statement:
"We are ecstatic, and hopeful that Monaco will respect the California court's ruling and send the children home. It has long been our position that Monaco has no jurisdiction because Hermes and Helena, as American citizens, have an absolute right to live in their own country. If the citizenship shoe were on the other foot and these children were citizens of Monaco, I have no doubt the United States would respect their right to reside in Monaco."
Kelly Rutherford talks to Dr Phil during her custody battle. Post continues after video.
Rutherford and Giesch, 41, a German businessman, divorced in 2009 after four years of marriage when Rutherford was three months pregnant with Helena.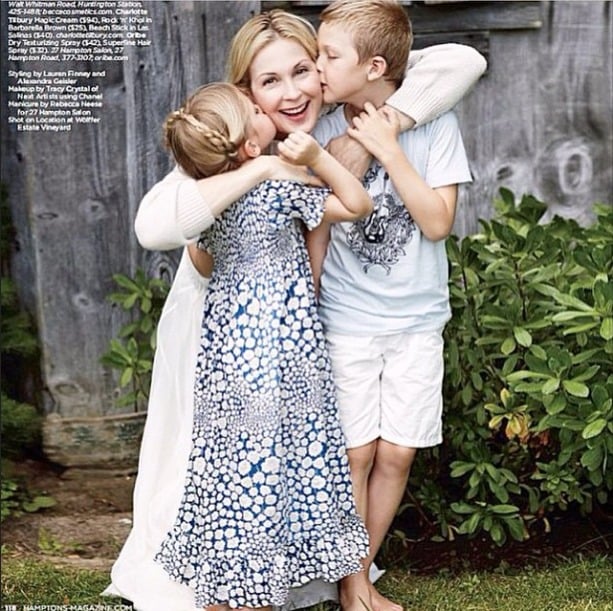 During a custody battle, Giersch was deported from the U.S. over allegations of visa fraud. According to court papers, a former lawyer on Rutherford's team reported the German businessman's allegedly illegal activities to the State Department.
Rutherford denied any involvement.
Giersch was then supposed to reapply for a visa but he never did. The court granted joint custody to the pair but as Giersch couldn't return to the US the children legally had to live in France. Rutherford flew to Europe every three weeks to see her children.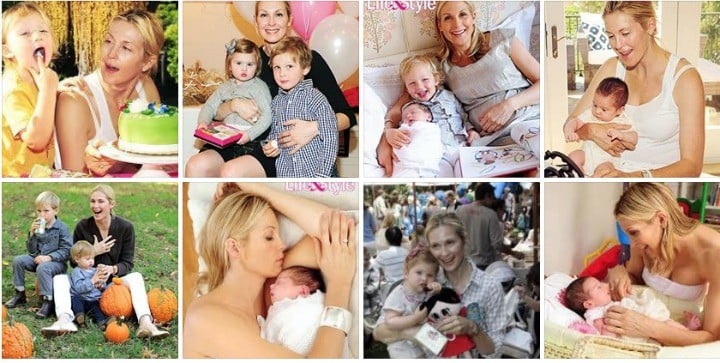 For three-years Rutherford fought to have the ruling overturned. Telling Good Morning America it had cost her emotionally and led to her having filed for bankruptcy with $2 million in debt after spending all her earnings from Gossip Girl on legal fees and flights to France to see her children.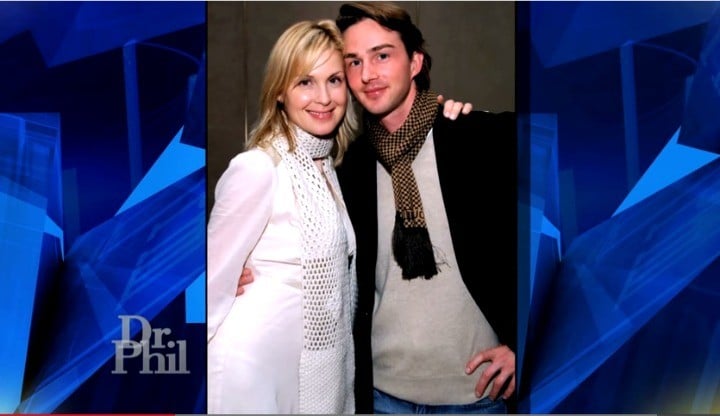 "I've always wanted my kids to have a relationship with him, and I've really only encouraged that all along. When I went into court, I never asked for money, and I never asked for full custody," she told People Magazine
"I just wanted what was right for them and their well-being moving forward. And what happened over the next six years was the most surreal, bizarre, unimaginable thing."
She began a petition on We The People in April that garnered the support of many high profile stars including Kim Kardashian included and attracted over 100,000 signatures.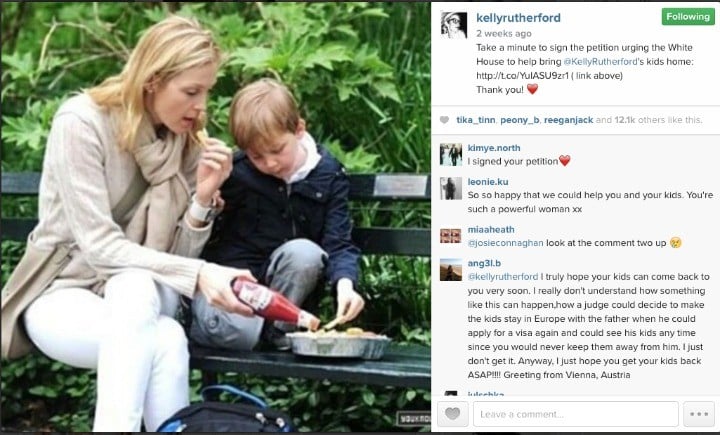 The Daily Mail reports that court documents show the judge had expressed concern that Giersch has been attempting to modify the custody agreements established by the California courts.
The legal documents also state that he has on at least two occasions since October 2014 prevented Rutherford from having access to the two children.
The news of Rutherford's victory was celebrated by friend, Kim Kardashian who tweeted: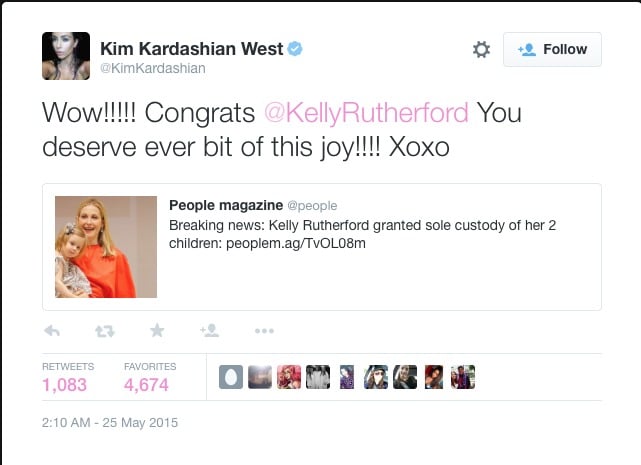 Rutherford has not made any comment on social media except to post this image to Instagram:
We will keep you updated on how the next phase plays out.
For now we wish the family the very best.