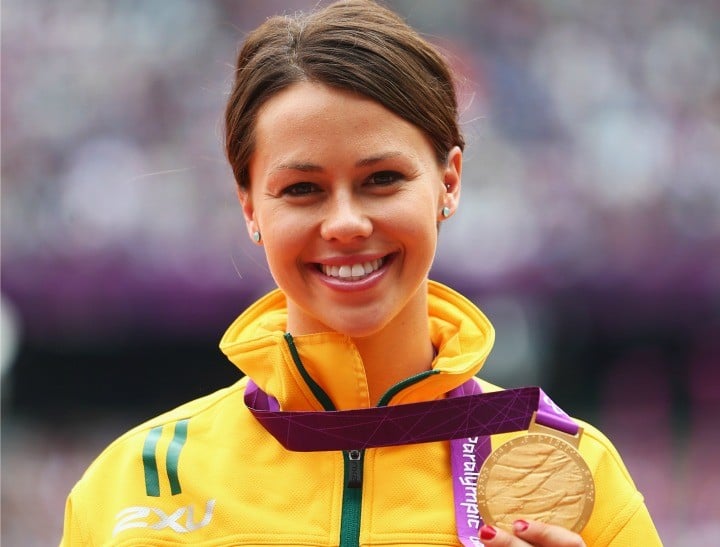 She is an absolutely phenomenal Australian figure, and we think it's about time she received more recognition.
Kelly Cartwright is a gold-medal winning paralympian and the kind of inspiring young woman we hope our daughters will look up to.
Recently we learned Kelly — who has only one leg — will be dancing up a storm on thus season of Dancing With The Stars AND she will be doing it while pregnant.
So in light of her big announcements, we thought we'd help the world get to know this phenomenal 26-year-old…
At the age of 15, Kelly Cartwright was diagnosed with a rare and highly aggressive form of cancer in her right knee.
Without action, this cancer would have eventually claimed her life.
Ultimately, Kelly was left with two options: 1. Undergo a risky operation, which may or may not succeed in stopping the rapidly spreading cancer, or 2. amputate her leg at the knee.
Kelly chose the latter.
"At the beginning, when I had the choice, I definitely didn't want the amputation. I thought I would rather die than have it, not knowing about the cancer," she told Mamamia.
"But as soon as I did my research and realised it didn't have a very good survival rate I made the choice."
After her surgery, it took Kelly more than four months just to learn how to walk again.
Read more: Losing 75 per cent of her leg put this woman on the world stage.
However, after getting back on her feet she wanted something more.
"A year later [just walking] wasn't enough," she explained. "I wanted to learn how to run."
Kelly started running outside her Geelong home with the assistance of her dad.
"It really wasn't much of a run — a bit more like a skip, sort of a hop.  I didn't realise you needed a specially designed carbon fibre blade."