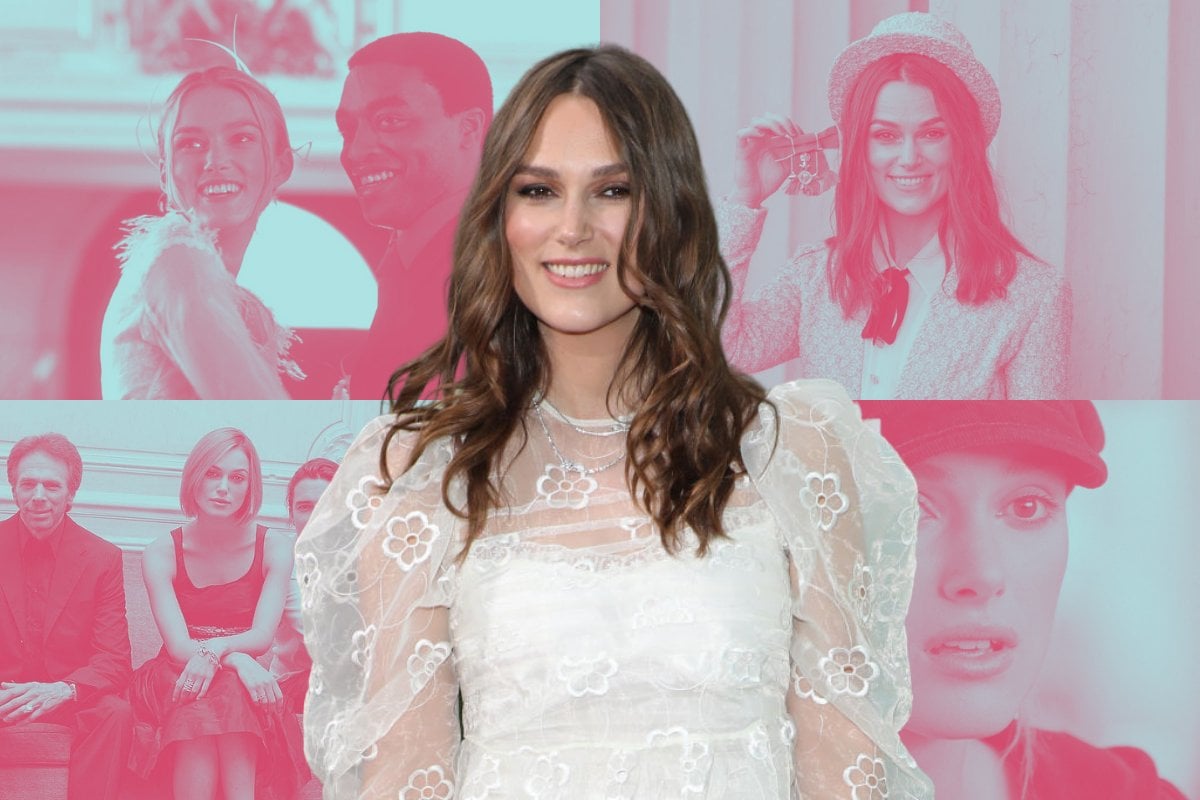 Keira Knightley was just 18 when she starred in Love Actually. 
Now, 18 years later, she's a very different person, starring in a very different Christmas movie.
Knightley, the daughter of two actors, started asking for her own agent at the age of three, and left school at the age of 17 to focus on acting. 
Watch the trailer for Love Actually. Post continues below.
By the time Love Actually came along, she was already famous, having starred in Star Wars: Episode 1 – The Phantom Menace, Bend It Like Beckham and Pirates Of The Caribbean.
It was an incredibly successful run of movies for the young actress. But with so much of the media coverage focusing on her looks and questioning her acting ability, Knightley was taking some massive blows to her self-confidence.
"From the inside, all you're hearing is the criticism, really," she told The Hollywood Reporter. "And, also, I was aware that I didn't know what I was doing, you know?" 
Even being nominated for an Oscar for Pride & Prejudice at the age of 20 didn't give Knightley confidence in her acting ability. She was still hearing the criticisms, and the media obsession with her looks continued.
"I felt pretty much like actually I didn't exist and I was this weird creature with this weird face that people seemed to respond to in quite an extreme way, and I couldn't quite figure any of it out."
It didn't help that she was being trailed by as many as 20 paparazzi at any one time, sometimes baiting her in the hopes of getting photos of her losing control.
After making Atonement and The Duchess, Knightley went through what she calls "my crash". She didn't leave the house for three months and needed hypnotherapy to walk the red carpet at the BAFTAs without a panic attack.
"I did have a mental breakdown at 22, so I did take a year off there and was diagnosed with post-traumatic stress disorder because of all of that stuff."  
Knightley travelled, and spent a lot of time in therapy. And then, one day, she had an epiphany.
"It was my 25th birthday," she told The Guardian. "I remember it so clearly. I suddenly woke up at 25 and was like, 'It's all okay.'"
All of a sudden, Knightley "didn't care" what other people thought of her. She went back to making hit movies, but without the self-doubt.
Not long afterwards, Knightley met musician James Righton from indie band the Klaxons through a mutual friend at a dinner party.