Peter and Juliet's wedding is one of the most beloved scenes of the 2003 romantic comedy Love Actually. We saw Juliet, played by actress Keira Knightley walk down the aisle, where she said 'I do' to Peter, played by Chiwetel Ejiofor.
As the pair exchanged vows, a pop-up choir and band emerged from the crowd with a rendition of All you Need is Love. It was a surprise organised by Peter's best friend, the wedding's best man, Mark (Andrew Lincoln).
Until that moment, Juliet didn't think Mark liked her very much. As it turned out, Mark didn't like Juliet. He was in love with her.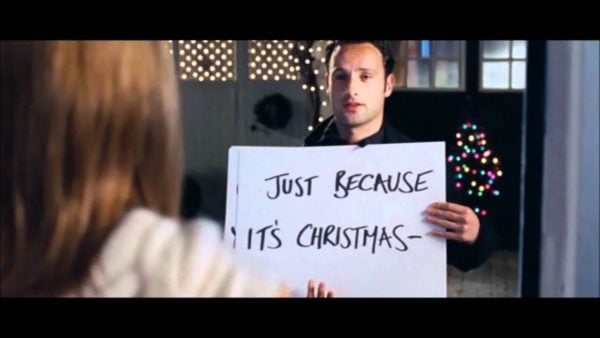 The movie ended with Mark on the newlywed's doorstep on Christmas Eve, declaring his love for Juliet without speaking a word — instead, through a series of handwritten messages on A3 cards. She ran down the snowy street and kissed him, before returning to her husband.
Now, a sequel-of-sorts is being filmed for this year's Red Nose Day charity telethon, and behind-the-scenes images shows what happened to the love triangle that was Juliet, Peter and Mark.
"Marital bliss, the best pyjama bottoms I've ever seen, and major #jerseyenvy," Emma Freud, Love Actually's script writer posted to Twitter alongside a photograph of Knightly and Ejiofor.
Last night, our last night on #rednosedayactually. Marital bliss, the best pyjama bottoms I've ever seen, and major #jerseyenvy #shallow pic.twitter.com/Zk8bDkCrYn

— emma freud (@emmafreud) March 8, 2017