The words "Keira Maguire" and "Bachelorette 2017" just keep cropping up alongside each other lately.
And the popular, ratings-baiting reality star is making sure of it.
As producers of the juggernaut Channel 10 dating show finalise casting for this year's season, the Bachelor 2016 alum shared a meme to Instagram on Sunday night that reads:
"Me: why is everyone together and I'm single? Also me: declines every date, takes 3-5 business days to reply, never smiles, cannot parallel park."
And she captioned it, "Except I Always Smile & I am an Amazing Parallel Parker… Totes going to be Bachelorette 2017 #justsaying [sic]"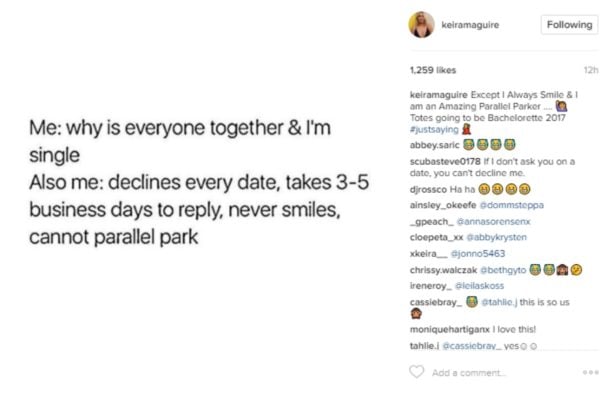 If only she weren't joking. No matter what you think of the 31-year-old, there's no denying that Keira + 16 thirsty men = television gold.
Sadly, even she knows the stars might not align for her.
Mia Freedman and Keira Maguire have No Filter. Post continues...

Speaking to News Corp last month, Maguire accepted she's probably a bit too unpredictable for the network's liking.