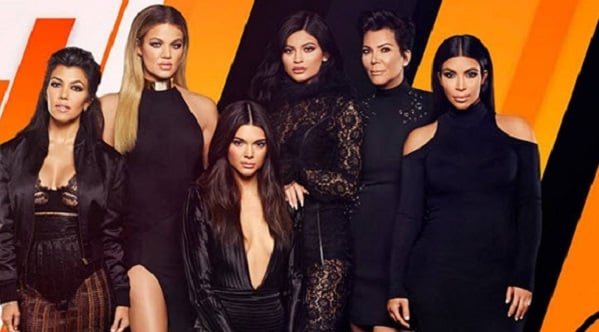 Keeping Up With The Kardashians is BACK.
And with it, some surprises. Rob Kardashian has stopped hating all his sisters long enough to allow them to yell at him on the world's most-watched reality show.
Scott Disick may have left his partner and the mother of his two children, but she's still buying all the furniture for his new home…
If your eyes are glazing over at this news, you are doubtless in the camp of people who don't understand why Kim, Kourtney and Khloe are famous. Not only famous, but multi-multi-millionaires.
And we have had enough of you. Specifically, Rosie Waterland and Laura Brodnik have had enough of you.
Here's why, on The Binge:
People. Keeping Up With the Kardashians is GLORIOUS TELEVISION.
It's light. It's funny. It's pervy.
And sometimes people, you need that.
What started as a pretty simple reality TV show way back in 2007 (when Kim was still friends with Paris Hilton… Kylie and Kendall were in their pre-teen years and Kris and Caitlyn were married) is now in it's 12th season. That's 12 seasons.
For those who have been watching from the start, we've seen them rise. And rise. And get married. And get divorced. And get married again. And have surgery. And have babies (literally, thanks for that, Kourtney).
But why are we still watching? Rosie and Laura don't agree on that.
Laura thinks it's because we love looking at the beautiful people being successful and strong.
"It gets an unfair wrap.. I am so sick of the whole 'what do the Kardashians do? Why are they famous?' They're famous because they have a hit TV show. And a thousand products, and because they're beautiful-looking people. And the idea that beautiful-looking people are held up by society and given money is not a new idea." Laura said.
"I think at the end of the day you can see that they are a real family. They've had a really messy life."
Watch a trailer for the season:
Rosie thinks it's much, much less nuanced than that.
"I just like it because it's dumb, I think they're dumb, and that's funny to me. It's an easy watch," she says.
"It brings it all back down to earth, they've turned into this massive empire and everyone has opinions about them, and when you watch the show which is the core of their empire, you realise they are just pretty dummies."
Pretty dummies? Or genius media manipulators? Either way, you're watching.
Listen to the full episode of The Binge here, where we discuss Game of Thrones, The Voice and more: