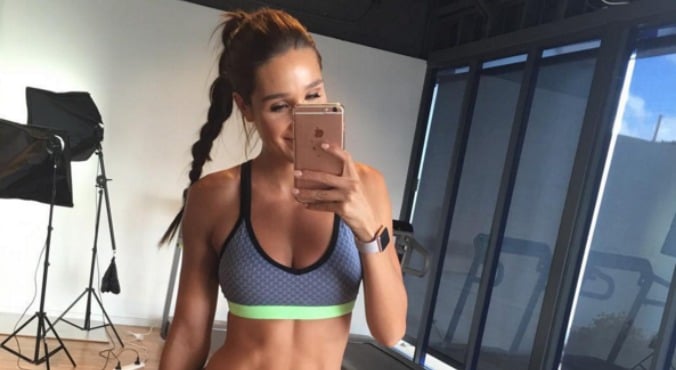 Image: Instagram/@kaylaitsines.
It's a truth universally acknowledged that you cannot believe or trust everything you see online. In some cases, though, this is easier said than done.
Take, for instance, the ubiquitous before-and-after "body transformation" photos you see on social media.
While these images are sometimes representative of weeks or months of effort, they can just as easily be faked with a little strategic lighting, sneaky posture and clothing adjustments and muscle flexing — as fitness blogger @plankingforpizza proved on Instagram last week with this post: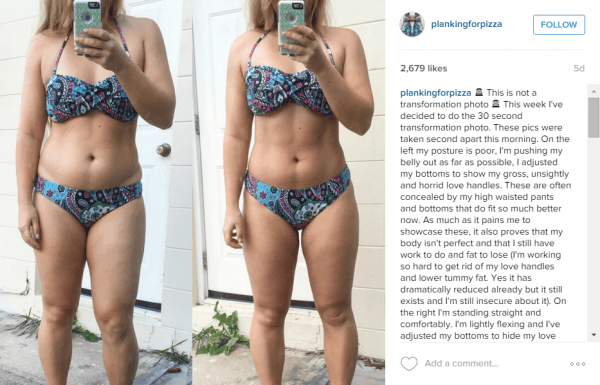 Since it went up, her "30 second transformation" has been liked more than 2000 times, made headlines around the world, and prompted other women to post their own versions.
Now fitness sensation Kayla Itsines has responded by sharing her own instant 'transformation', only with the intention of spreading a "strong, positive and powerful" message to her millions of fans.
Itsines — whose Bikini Body Guide (BBG) followers typically document their progress with before-and-after photos — admitted that she didn't understand what the movement was trying to prove, but that at the end of the day she believes feeling happy and confident on the inside trumps physical appearance.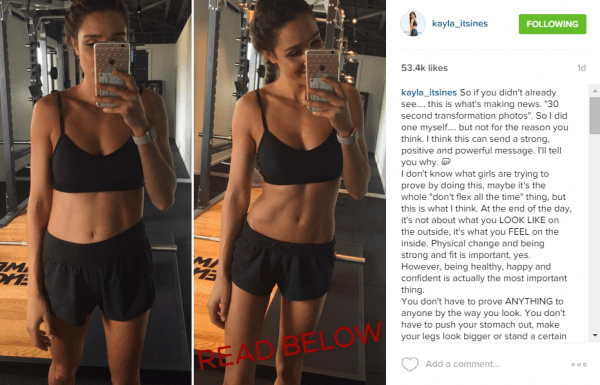 "You don't have to prove ANYTHING to anyone by the way you look. You don't have to push your stomach out, make your legs look bigger or stand a certain way to look "bad" to try and make your transformation better," the Adelaide personal trainer wrote.
"Honestly, every single photo and transformation is amazing. But that happiness won't last as long as the happiness of health and confidence. Faking a progress photo (or exaggerating one) is only going to poorly affect your mindset."
Itsines went on to praise the "damn hard" work of her BBG devotees to achieve their physical and mental health goals, adding that they don't need to prove anything to anyone else — whether or not that includes sharing a progress photo.
Watch: Sam Wood demonstrates an easy workout circuit you can do at home. (Post continues after video.)
"Who cares if you have had a bad eating day, you look bloated, you have your period, you have a 'food baby', it doesn't matter. If you FEEL good about yourself on the inside and you LOVE and accept yourself and are PROUD of what you have achieved, then that's all you need," she writes.
"Post a photo of your body and be proud. Don't try to overstate your appearance. You should be telling the world how much better you FEEL! Add a big smile in that photo ... People are inspired by YOU because you inspire them with your ATTITUDE towards life."
Something to keep in mind next time a body transformation image — whether it's "real" or not — pops up on your Instagram feed.
What's your take on before and after "body transformation" pics?