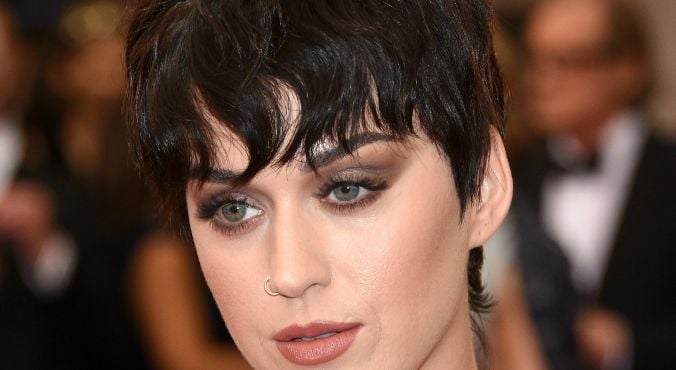 Image via Getty.
Ever since she shared a picture of her "Kris Jenner haircut" a few months ago, we've been wondering how long it would take Katy Perry to reunite with her long hair.
But it seems like the Roar singer missed her long hair a little too much, posting a photo of her newest hairstyle – and it's much longer and lighter.
We love it.
The singer's trademark jet black hair has been given a summery makeover, with the addition of warm bronde balayage.
"I got my hair flow back," Perry captioned the photo, and her fans seem to agree, with plenty of comments saying "Cute", "It looks lovely" and "Suits you so well!".
RELATED: The 10 most highly requested celebrity hairstyles. According to Australia's top hairdressers
 While we don't know whether Perry has been secretly growing our her hair under the wigs or whether the magic growth is thanks to extensions, but we do know one thing - it probably won't be long until the next change.
Selena Gomez
Her long, shiny hair scored her a campaign as the face of Pantene, but it's Gomez's latest haircut we can't get enough of.
RELATED: Stuck for hair inspiration? This is the one haircut that will never be out of style
Sharing a picture of her textured lob on Instagram, the 23-year-old singer has proven that the short hair trend isn't going anywhere.
Gigi Hadid
It seems like Gigi Hadid's recent trip to Australia has left her feeling a little blue. Literally.
While celebrities like Hilary Duff, Nicole Richie and Julianne Hough have been going for all over bright colour, model Hadid has gone for a much more subtle approach, by dyeing just the ends of her hair a pastel blue.
RELATED: Non-permanent hair ideas even the biggest commitment phobes will love
The 20-year-old-model's beachy blonde hair has made her one of the most popular hairstyles Australian hairdressers get asked for, so we'll have to wait and see if the blue also catches on.
Who gets your vote for hair of the day?
The best celebrity hair transformations