After 19 years of marriage and abuse at the hands of her husband, Kath Bergamin from King Valley in Victoria found a way to leave.
The 37-year-old mother-of-three filed a restraining order against her husband John Bergamin and moved to the town of Wangaratta, along the Hume Highway, finding a job teaching disabled children.
Though her ex-husband knew where she lived – he visited under the guise of picking up the children – his hunting guns had been confiscated by police and Kath likely felt safer, living in a house with a flatmate, than she'd ever felt in her marriage.
On 18th August 2002, Kath was home alone watching a movie and drinking a cup of tea. She received a phone call around 7:30pm from a friend and that was the last conversation she would have with anyone but her killer.
A single intruder, or several – the police don't yet know – entered her home, bound her with tape and kidnapped her.
Kath's body has never been found. Her killer never identified.
Fifteen years later, and a fresh push to deliver justice is underway.
In the initial investigation, police quickly honed in on the estranged husband. John's history of violence, and his frequent threats to kill Kath if she ever left, painted him as malicious enough to do the crime.
"She was a very scared lady. She had endured a very long and abusive relationship,"retired senior constable Mick Harvey, who was serving in the community at the time of Kath's murder, told Channel Seven's Sunday Night. "She was scared of John. She wasn't allowed to do anything. She was kept at home."
But solid evidence was difficult to come by without a body and, though John was charged with Kath's murder in 2006, the case was later dropped.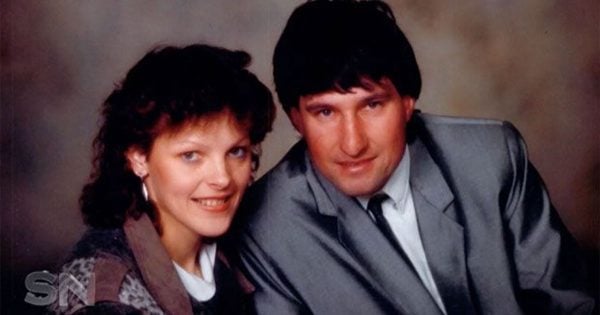 Detective Sophie Leete, who is leading the new investigation, said John is still a person of interest. And that they're hoping to use new technology to examine old evidence and find something more substantial tying any suspect to the case.
The number one piece of evidence they're interested in? A piece of duct tape found in Kath's backyard.
"With the advances that we now have in forensics and DNA, we will be having all of that re-tested," Detective Leete told Sunday Night. "[The duct tape is shaped in a figure-eight] and, obviously as a result of that, we believe it could have been used to bind some limbs."
The police have also increased the reward for anyone with information to $1 million, as Kath's family believes there are people who know about the murder who haven't come forward - an idea reinforced by the fact a handful of people refused to give evidence in the 2007 coroner's inquest
"We have been trying to get the reward increased," Kath's brother Roger Russel told The Border Mail last year. "We're hoping this is the next step in getting it up and getting to court."
"It would be good to have it resolved because the body's never been recovered. Somebody needs to say what they know."
The episode of Casefile you need to listen to. Post continues below.

Former senior constable Harvey said he never thought they'd be able to find Kath's body, hidden somewhere in the rolling hills of King Valley. But that he believes the killer will eventually be identified.
Hopefully 15 years on, justice might be served to the person responsible for taking Kath's life at a time she was just emerging from a marriage filled with oppression and fear.
"That was the key to what she thought was her new life, her freedom," Harvey said. "The matter will be resolved one day, it will."
To read about the missing women who were never found, click here.
To read why women are far more obsessed with true crime than men, click here.
To read about an anonymous call to 911 led to the discovery of one of the world's deadliest cults, click here.