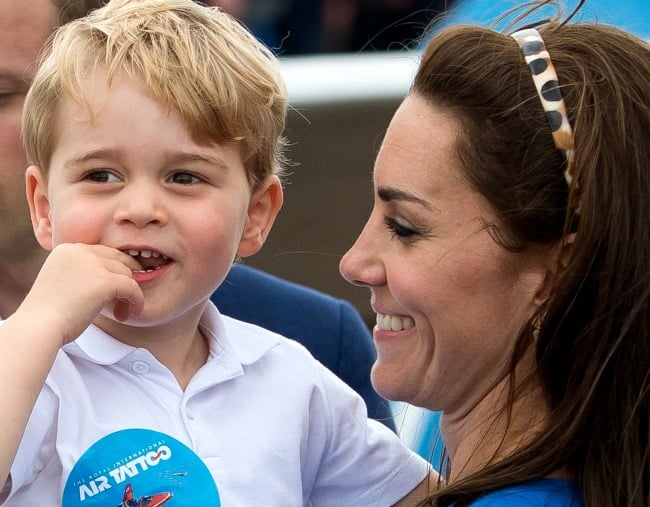 To catch up on all your royal news make sure you check out our Royal Hub. It's a blast.
There are a lot of things mums might not want to do after giving birth and a photo call and a school run are probably two of them.
However the 36-year-old Duchess of Cambridge did both shortly after giving birth to her third child, Prince Louis.
The mum-of-three shocked royal onlookers when she stepped in front of cameras looking primed and polished outside the Lindo Wing at London's St Mary's Hospital seven hours after delivering Prince Louis. But what she did next wasn't captured by the media, yet speaks to her dedication as a parent to keep life as normal as possible for her eldest son.
According to the Daily Mail's royal correspondent, the morning after giving birth Kate Middleton dropped Prince George off at his school, Thomas's Battersea, and it's something she and Prince William like to do as often as possible.
"No one really gives Kate a second glance when she does the school drop-off. We have a Victoria's Secret model doing the school run, too, and the dads are far more interested in her," said a source.
The parents wanted to give George an opportunity to have a normal upbringing, and chose Thomas's Battersea accordingly.
The $31,200-a-year school is highly regarded as one of the top prep schools in Britain and its notable alumni include Cara Delevingne and singer Florence Welch of the band Florence and the Machine.
"They thought long and hard about where George should be educated and really liked Thomas's, which has a lovely nurturing atmosphere," commented another unnamed source.
"'They know there will come a time when they will have to sit down and talk to him about the implications of his royal status and why so many people are interested in him. He is becoming more aware of the cameras. But they are determined to do that at George's own pace and feel that can all wait a bit," they said.
While Prince George has been attending Tomas's Battersea since September of last year, his three-year-old sister, Princess Charlotte, began nursery school at London's Willcocks Nursery School in January of this year.
Watch the adorable moment when Prince George steps on his aunty, Pippa Middleton's wedding dress.
Thank you - just by clicking on this and other content on Mamamia, you are helping to fund education for some of the world's most disadvantaged girls.
Together with our commercial clients and charity partner Room to Read, Mamamia's goal is to be funding 1,000 girls in school each and every day, by June 2020.
Learn more here about our ongoing mission to make the world a better place for women and girls.