As your fingers scroll down the screen, she catches your eye.
Her head is down, her eyes cast to the side, a black eye covering a good portion of her face. If you look a little closer, you notice it's not just anyone's eye, and it's not just anyone's face.
It's Kate Middleton.
The text below the advertisement reads: Kate Finally Reveals What Caused The Dispute.
Kate, black eye, the mention of a dispute. Your mind moves. Domestic violence, perhaps?
You click through the ad, and you stumble upon an article, or so it purports to be.
"Princess Kate Middleton Will Spend Time Away From the Royal Family To Campaign For Breakthrough Skincare Line!" says the headline, with the article sitting on a website that looks a lot like PEOPLE Magazine, though it's not. There are no mentions of black eyes or disputes and the implication of domestic violence? All but forgotten.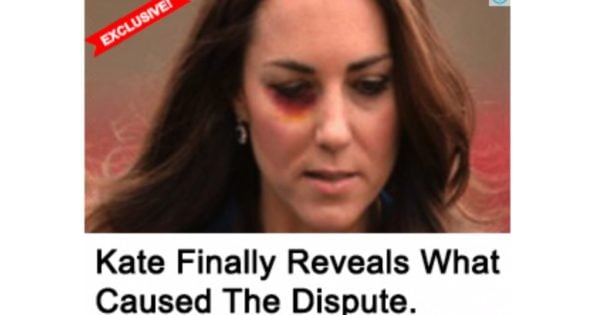 You've been sucked in by the premise of domestic violence and the promise of celebrity news, a fake article of fake news, a fake celebrity endorsement to boot.
This is the pop-up ad brandished across many a major news sites at the moment. A clearly photoshopped Kate Middleton with a black eye finding itself beside countless webpages, a jarring but fake image of abuse.
The premise of the ad may be bogus, but the skin care line called Junivive is certainly real. A skincare line with online advertising space and the ability to reach an international audience, using domestic violence and manipulating a famous face for a buck.