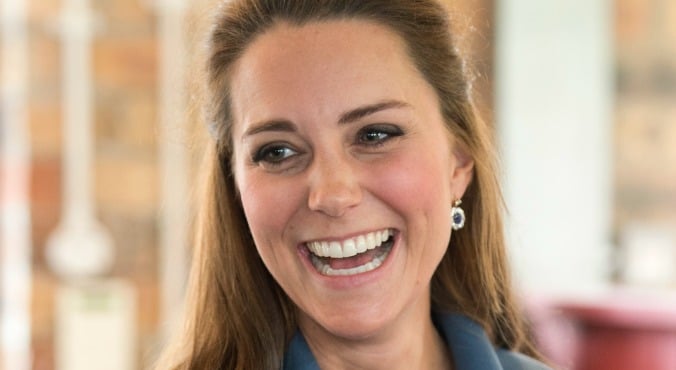 Image: Getty
Kate Middleton's maternity fashion choices never fail to generate interest. Whether it's a colourful pea coat or a pair of stylish-yet-study wedges, the world has carefully studied the Duchess' wardrobe throughout both of her pregnancies.
Her baby beauty routine, on the other hand, has slipped under the radar. Until now.
RELATED: The 7 beauty products to avoid during pregnancy.
According to US Weekly, the 33-year-old – who is seven months pregnant – has thoroughly Royal Baby-proofed her makeup bag, switching her favourite products and treatments for more maternity-friendly versions. "Kate is very cautious of products and treatments," a source told the magazine. "Baby's health comes first."
So, what would we find in the Royal beauty cabinet? Surprisingly, Kate's products of choice aren't as fancy as you'd expect. You might already own some of them yourself.
Speaking of The Duchess' envy-inducing wardrobe… (post continues after gallery)
Kate's a big fan of oils right now, namely Bio-Oil ($11.99) and Trilogy's Rose Hip Oil, which is a total steal at just $25. "She loves the effect rosehip oil has on her skin," the source says.
Incidentally, we here at The Glow also love these two products. Surely this shared enthusiasm is grounds to be invited to Buckingham Palace for tea and crumpets with K-Middy and baby George?
RELATED: The commoner's guide to Kate Middleton hair
When it comes to tanning, Kate has subbed out her regular St Tropez spray tans for Bobbi Brown's Shimmer Brick in Bronze ($75), which is DHA-free. The permanently rosy-cheeked Duchess also loves NARS blush in Orgasm ($39) – join the club, lady. Sorry – Ma'am.
Kate's eye makeup is now just as famous as her handsome Prince of a husband. She creates her signature look with everyone's favourite, Urban Decay's Naked eyeshadow palette (which will soon be available here in Australia), and Lancome Hypnose mascara ($52). No word on her eyeliner of choice, unfortunately.
As for her apparently very controversial grey roots (a pregnant woman with grey hair? You don't say!), Kate's been topping them up with a vegetable-based dye that's a bit more red than her usual chemical colour.
"Changing her hair colour is the toughest sacrifice," says the source, who at this point we're hoping is a friend of Kate's and not a deranged stalker. Apparently Kate's also been steering clear of hair spray, which is fine when you constantly have a professional SWAT team of stylists on hand.
RELATED: "What it feels like to have morning sickness as bad as Kate Middleton"
The source also claims Kate is taking regular private yoga classes to keep herself fit.
So there you have it. That should tide us over until royal baby number two arrives next month...
Do you have any pregnancy beauty product recommendations?
7 surprising beauty products you should avoid during pregnancy