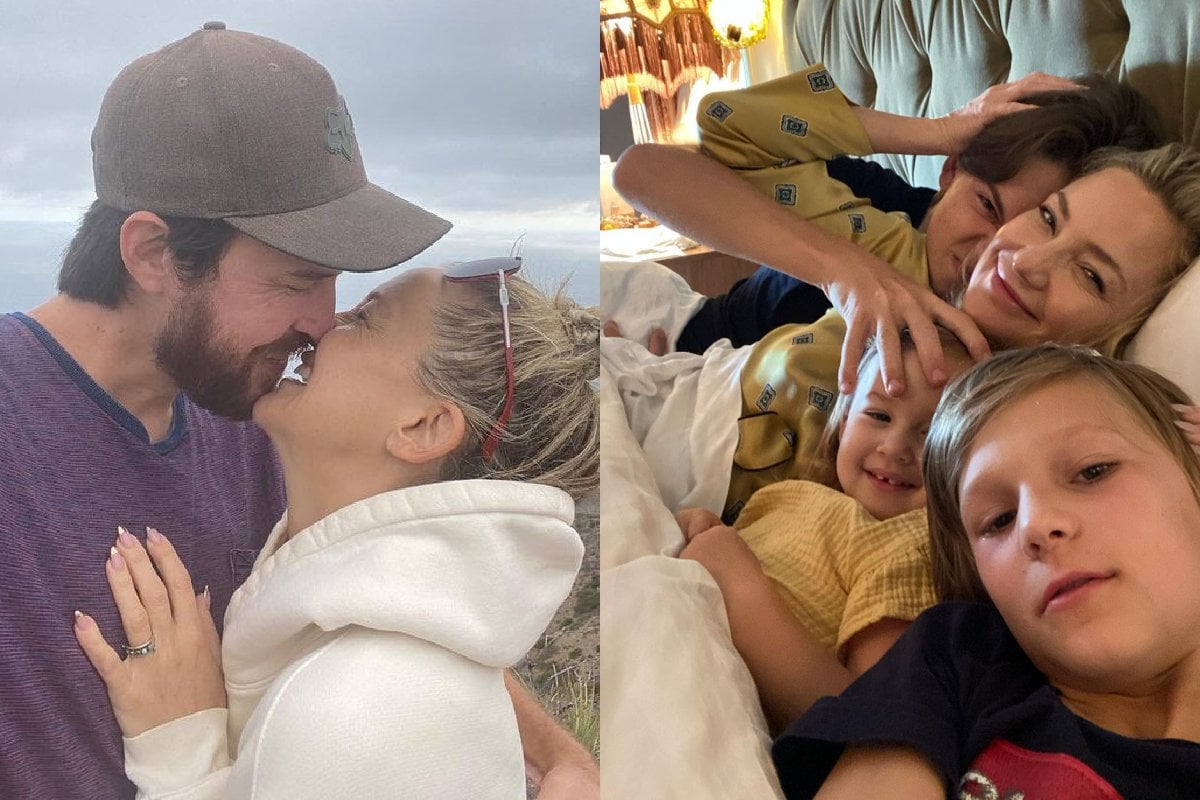 When it comes to family relationships, Kate Hudson has a more complicated one than most. 
"I've got multiple dads, I've got kids all over the place," the actress and businesswoman told Sunday Today with Willie Geist earlier this year. 
"The only expectations I really have that are really high in my life is with my kids," she said. "And with like family stuff. Other than that, it's like, I just let it go. I work my ass off and then I walk away and I hope for the best."
The 42-year-old also opened up about how she and her brother Oliver Hudson are estranged from their biological father, musician Bill Hudson, and were raised by their mother Goldie Hawn and her partner, Kurt Russell.
"It's a 41-year-old issue," Hudson, who rarely speaks about her father, said."I have a great family. I have a beautiful mother. I have a stepfather who stepped in and played a huge, huge part in sharing what it is to have a dependable father figure in our life. But it doesn't take away from the fact that we didn't know our dad."
The actress went on to say that "estrangement is unfortunately quite common".
"I think it's important for people to talk about that. Sometimes [we] need a little bit of talk and humour to move us into places where we can heal some of the wounds," she added. 
Hudson has previously spoken about her estranged father and her relationship with her other siblings on her podcast Sibling Revelry, which she co-hosts with her brother Oliver. 
"You know what I've been thinking about lately? Dad," she said in an episode earlier this year. "I've been thinking about our sisters that we don't spend any time with and our brother — brothers. We've got four siblings we don't spend any time with.
"We've been talking so much about sibling relationships and distraught relationships or good relations — and we're sitting here like we have the best family, we're so great and yet we don't ever acknowledge the fact that we have four other siblings."
After Bill Hudson and Hawn divorced, he had two kids - daughter Emily in 1982 and son Zachary in 1986 -with Laverne and Shirley's Cindy Williams. He also had a daughter Lalania in 2006.
Kate Hudson on raising three kids with three different dads. 
Last year, the actress opened up about raising her own children and the struggles of homeschooling them amid the COVID-19 pandemic. 
Speaking on The Ellen DeGeneres Show, Hudson shared she was finding it difficult to balance her children's schooling with running her own four businesses.