A week on from Lisa's Wilkinson's abrupt but pointed exit from her helm at The Today Show, Karl Stefanovic has spoken for the first time.
In an interview with News Corp at the weekend, Stefanovic said though there is "nothing but love for Lisa", the show itself is "more important than any one person".
"It was strange after 10 years for her not to be next to me. It's like dancing with a new partner, I guess."
Stefanovic gave no hint as to who would be filling Wilkinson's chair, though praised the litany of rotating, fill-in hosts the show has at its disposal, who are "extremely talented and seasoned at presenting the show".
Listen: The Mamamia Out Loud team discuss Lisa Wilkinson's exit from TODAY.

"More importantly, the viewers already know them," he said.
"It's up to the bosses who fills that role. I'm excited about the future."
"Competition is fierce," he said about the breakfast TV time slot. "There's no time to sit back and reflect. I'm sure we will do that at some point, but right now it's about Monday's show at 5.30am."
The 43-year-old also said his girlfriend of one year, Jasmine Yarbrough, has been a strong source of support of his life in the spotlight.
"She has committed to my life … my whole life, and her support is unwavering,'' he said.
"It would not be easy for Jasmine stepping into this. The focus sometimes is incredibly invasive. But she's strong, full of light, life and laughter.''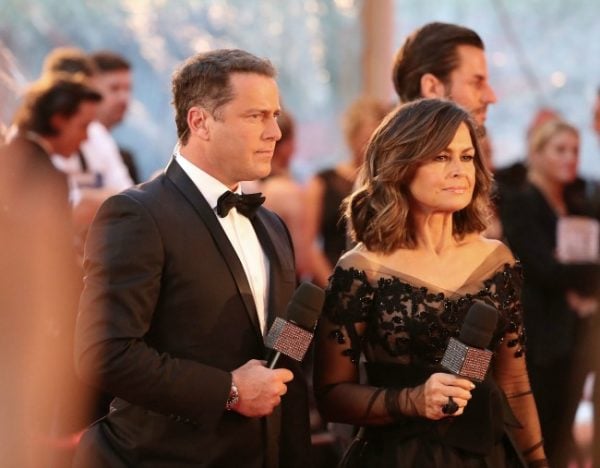 The veteran journalist re-affirmed his intention to stay put on the show, telling News Corp he would be presenting TODAY next year.
"I'm not going anywhere," he said. "I'm loving the show more than I ever have."
It comes a day after The Daily Telegraph reported Stefanovic wanted to "quit" the program, in favour of hosting a prime time gig like A Current Affair.
"Karl has been begging to get off there forever and surprise, surprise, the joint has imploded because they never listened to this bloke," the Daily Telegraph claims a Channel Nine executive told them.
"They haven't let him off and he's been like a hostage."