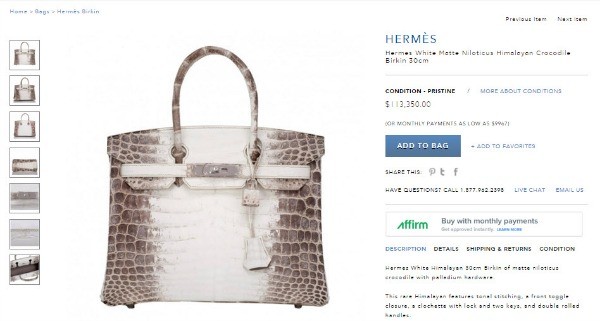 The family that buys hundred-thousand dollar accessories together, stays together.
The whole Kardashian Klan just got together for a surprise trip, organised by momager Kris Jenner. Of course, the entire thing was well-documented across the sisters' infamous social media channels.
But there was one photo from Kylie Jenner's Snapchat in particular that caught our attention.
Pictured above are four Hermès 'Birkin' bags, three full-sized, and one miniature identified as the "odd one out".
The bag is one of the French designer's most iconic products, named after the mega-stylish actress and singer of the 1970s, Jane Birkin.
You can't buy a a Birkin directly from Hermès online (because fashion) but from a reputable re-sale site, they retail for anything from $8,500 to $113,350. The price varies depending on size, colour and type of leather, the most expensive option available being the "White Matte Niloticus Himalayan Crocodile Birkin" (30cm).
Yes. Really.