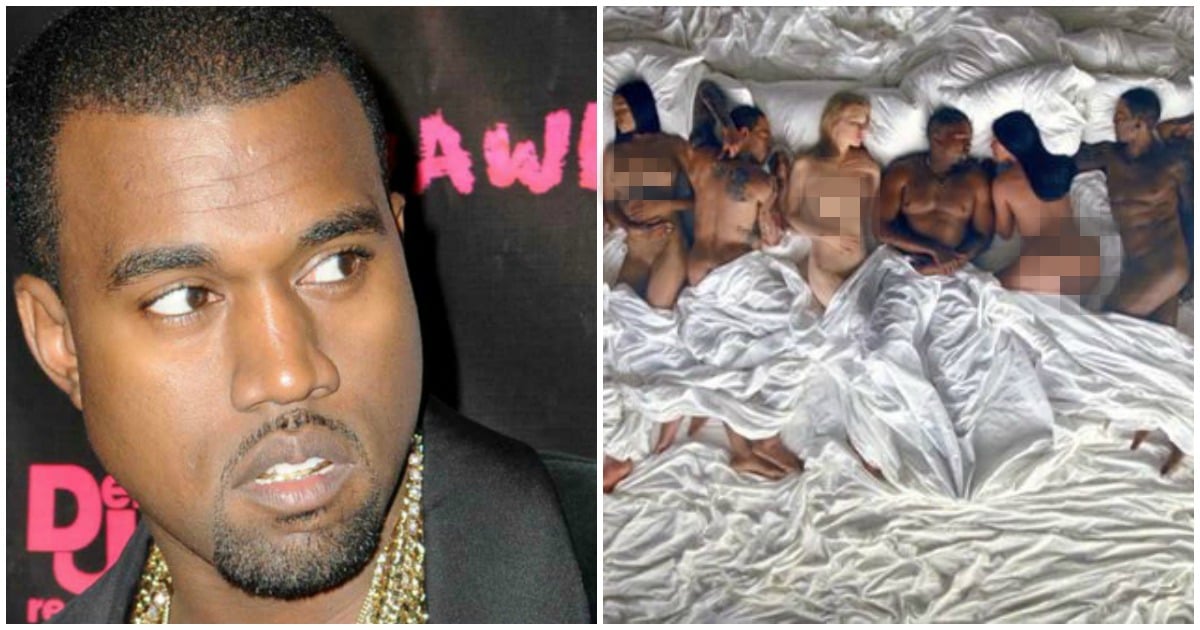 A few days ago, I would have said that the only shocking thing about Kanye West was not seeing his face, family and opinions splashed across my social media feed on an hourly basis.
The I-am-God-bow-before-me-outrageous comments and quips had pretty much run their course, which is why Kanye seemed so desperate to make the world gasp with his latest music offering.
And gasp, we did.
The music video in question, for the tune Famous, at first seemed like a grab for media attention, clickbait, a way for a song that could have flown under the radar to secure endless headlines.
It's a tale as old as time, celebrity + nudity = public interest.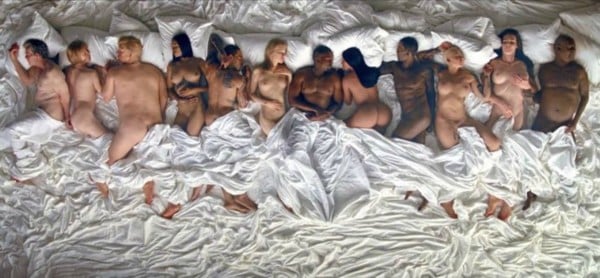 As the camera pans over the supposedly sleeping bodies, their identities are revealed as George W. Bush, Donald Trump, Anna Wintour, Rihanna, Chris Brown, Taylor Swift, Kanye West, Kim Kardashian West, Ray J, Amber Rose, Caitlyn Jenner and Bill Cosby.
All sans clothes.
The real celebrities in question have not been captured on film, of course. Not that it matters. It's their public personas that matter, the carefully curated corners of the pop culture worlds they represent. You could put those faces on anyone and they would matter, which is exactly what Kanye has done.
The hidden genius of this Kanye West offering is less about the naked celebs and more about who has been chosen to to lie next to Yeezy.
And who has not.
Taylor Swift is there, because her fame and Kanye's fame are forever linked. They break-up, they make up, they trade online barbs. One is the hero, while one plays the villain. They've made their co-sleeping bed and now they have to lie in it.
Kanye West also made headlines for his recent appearance on Ellen. (Post continues...)
In fact, everybody who earned a spot in that bed has somehow contributed to Kanye's fame. His wife, pop culture icon Kim Kardashian West, has helped shape him into one half of a super brand.
Vogue editor Anna Wintour not only helped name his first born child, but has been one of the few people in the fashion industry to give him the approval and legitimacy he craves. Wintour may not see her inclusion as an honour, but despite what fans have speculated Kanye definitely saw her inclusion as a nod of respect.
However, the same cannot be said for Bill Cosby's inclusion. At first glance, it appears that West may be in support of convicted sexual abuser, but that's simply not the case. Famous is less about passing comment on who deserves fame and instead points out that in the case of Cosby, infamy and fame go hand-in-hand.
The most controversial addition to the sleeping arrangements is not the Taylor Swift look-alike's naked breasts being pushed to the forefront of the camera, but the inclusion of Ray J.
He's Kim's ex and the co-star of the infamous sex tape that people still insist is the only reason she's famous. Then world assumes Kim is only face because of him, and so his inclusion is a little nod to the haters. Kim is one of the most successful people in the entertainment industry, and she didn't get there from a sex tape. Fame is a lot harder to grasp than that.
But perhaps the biggest comment on fame and the cycle of power within, is who was not chosen to appear.
We all know that Kanye holds super couple Beyonce and Jay Z in high esteem, yet they are absent from the clip. The same goes for Barrack and Michelle Obama, a relationship Kanye has always built up in the past. The inclusion of these power couples would have been sure to cause a stir, yet Kanye had no comment on them. Proving that true power and fame leaves some duos untouchable.
Famous may seem like a cheap publicity stunt, but really it's a genius look at the world of fame. The good, the bad, the legitimate and the disgraced, all secretly in bed together to keep their own narratives flowing through our screens. With the real power players out of sight.
Not everyone deserves to be famous, but there's more than one way to find your way into that bed.
Click through for the different Kim Kardashian looks we've seen over the years.