In 2009, Taylor Swift was bright-eyed, curly-haired, still singing country tunes and relatively new to the fame that would soon envelope her life.
She would also make headlines for famously being interrupted accepting an award for Best Female Video at the VMA's by Kanye West, her stunned expression snapped by photographers and brandished worldwide.
Kanye, in all his thoughtful and considered instinct, ran on stage and delivered the following:
"Yo, Taylor, I'm really happy for you and I'mma let you finish, but Beyoncé had one of the best videos of all time. One of the best videos of all time!"
Now, in a new interview with The Hollywood Reporter, former MTV Chief Van Toffler has described what it was like backstage the moment the then 19-year-old left the gazing glare of the award show, saying both Swift, her mum and Beyonce were in balls of tears.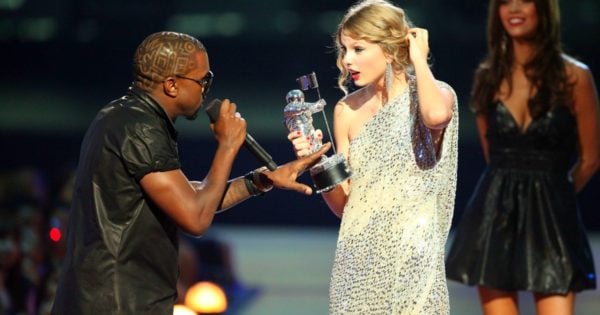 "When Kanye walked up onstage with Taylor [Swift] that year, it turned out that Taylor had to go onstage to do her song five minutes later. I ran out of the truck to see that everything was all right, and Taylor and her mom [sic] were crying hysterically," Toffler said. "I'm not always wonderful with emotions. I didn't know what to say. Then I went backstage, and Beyoncé was crying, too."
Beyonce, then, almost just as famously invited Swift onstage with her when accepting her Video of the Year award later that night.
The night itself was the catalyst for a bizarre and particularly on-again-off-again feud between West and Swift, with Swift going on to pen her 2010 hit Innocent about West, singing:
You're still an innocent.
It's okay, life is a tough crowd
32, and still growin' up now
Who you are is not what you did
You're still an innocent.
Eight years later, and who knows if Swift would sing it all again?