With endless amounts of money usually come unnecessarily frivolous gifts. We're talking ponies, life-sized chocolate fountains, a trip to the Maldives, tiaras, etc. etc.
But in Kim Kardashian's recent Instagram story, Kanye proved this assumption wrong with a surprisingly sensible gift: Stock. Merry Christmas?
No, we're not talking chicken stock, or those itchy black stockings we were given two years ago. Stock in companies. Huge companies.
It's clear the Kardashian business mindset has rubbed off on Kanye, and Kim certainly isn't complaining.
LISTEN: Chris Brown's Christmas present for his daughter was beyond inappropriate. (Post continues after audio.)
"Okay so for one of my Christmas presents from Kanye, he gives me this little box with a Disney Mickey toy, Apple headphones, Netflix [and] Amazon gift cards and Adidas socks," Kim told her Instagram followers. "And I'm like 'That's so sweet, thanks'."
"But then I open the next box, and it is stock from Amazon – where he got the gift card – stock to Netflix, stock to Apple – hence the little headphones – Adidas stock…" she continued.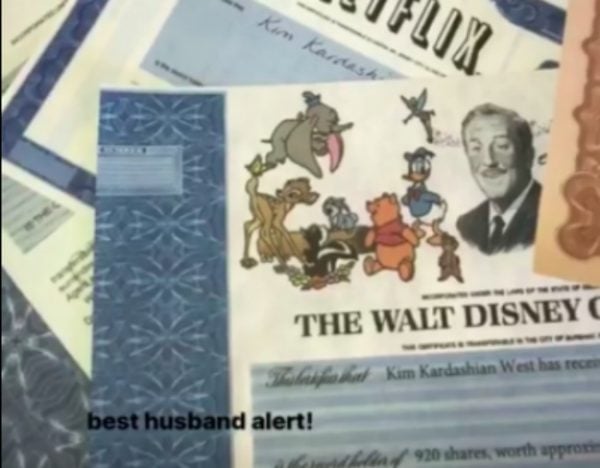 In an interview on Ellen this September, the 37-year-old mother-of-two expressed her frustration at Kanye's habit of buying extravagant gifts for her, and so the utter practicality of this gift seems out of character, but in the best way possible.
Spending more than US$200,000 ($AU260,000) on stock for a Christmas present definitely exudes extravagance, but the long-term investment in some of today's richest companies is an ultra savvy move. And if this in some way persuades other women to take the leap and invest some coin in the male-dominated share market, then that's a positive.
It's inconceivable how Kim and Kanye manage to surprise one another each year with bigger and better gifts, but we think – we THINK – it might have a little something to do with the bundles and bundles of money they have available to them at hand.
Christmas in 2013 was less painful for Kanye West's wallet, spending approximately US$100,000 on a hand-painted Hermès Birkin Bag for Kim. Pfffft. You can do better than that, Yeezy.
Back in 2015 for Kanye's 38th birthday, Kim gave him a set of keys to the Staples Centre, apparently spending US$110,000 for the gift. No biggie.
For Kim's birthday in 2016 after the Paris apartment attack, Kanye gifted her a low-key US$50,000 pair of ruby earrings, after cancelling the big party they had planned for safety reasons. The present was accompanied by a surprisingly heart-warming video compilation of never-before-seen family footage.
Despite what seems like a boundless supply of money playing a huge part in their lavish present giving ability, it's also clear that the two know each other better than we all expected, proven by this year's tailored Christmas present from Kanye to his businesswoman of a wife.
"Best husband alert" indeed.
In 2018 Mamamia is launching a new community called Ladystartups for women who work for themselves or dream of doing so some day. We're already on Instagram (come join us @ladystartups) and we have big plans to help women grow their businesses, turn your side hustle into a full time gig or empower you to pursue your dream. Tell us what you want and need from us by taking this five minute survey and register at ladystartups.com to be the first to be updated when we launch.