With endless amounts of money usually come unnecessarily frivolous gifts. We're talking ponies, life-sized chocolate fountains, a trip to the Maldives, tiaras, etc. etc.
But in Kim Kardashian's recent Instagram story, Kanye proved this assumption wrong with a surprisingly sensible gift: Stock. Merry Christmas?
No, we're not talking chicken stock, or those itchy black stockings we were given two years ago. Stock in companies. Huge companies.
It's clear the Kardashian business mindset has rubbed off on Kanye, and Kim certainly isn't complaining.
LISTEN: Chris Brown's Christmas present for his daughter was beyond inappropriate. (Post continues after audio.)
"Okay so for one of my Christmas presents from Kanye, he gives me this little box with a Disney Mickey toy, Apple headphones, Netflix [and] Amazon gift cards and Adidas socks," Kim told her Instagram followers. "And I'm like 'That's so sweet, thanks'."
"But then I open the next box, and it is stock from Amazon – where he got the gift card – stock to Netflix, stock to Apple – hence the little headphones – Adidas stock…" she continued.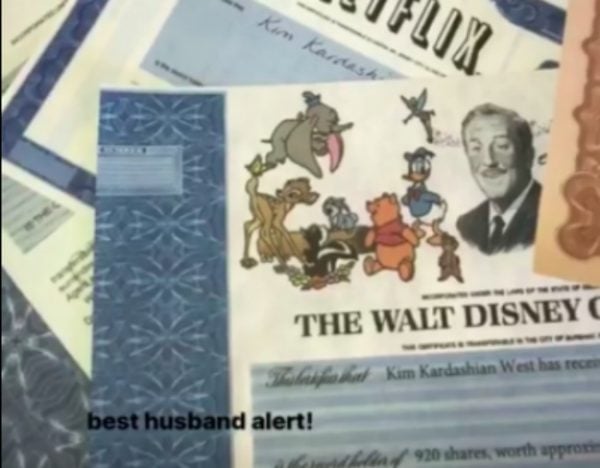 In an interview on Ellen this September, the 37-year-old mother-of-two expressed her frustration at Kanye's habit of buying extravagant gifts for her, and so the utter practicality of this gift seems out of character, but in the best way possible.