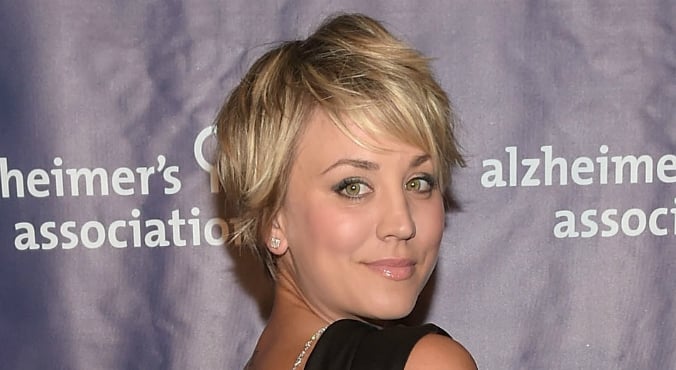 Image via Getty. (Doesn't Kaley look like Meg Ryan here?)
"Think pink!" seems to be the motto du jour for anyone remotely famous, with The Big Bang Theory actress, Kaley Cuoco, swapping her blonde locks for a dreamy, fairy floss-pink hue.
Her cropped hair is now mostly pink, with a few strands of blonde peeking through. The look is reminiscent of boysenberry swirl icecream. And who can say no to icecream?
Related: Want to be the next big beauty vlogger? Here's your chance.  
Ms. Cuoco showed off her new, pink 'do on Instagram, and captioned it with: "Have wanted to do this for years! Finally went pretty in pink! Thank you @vspaeth for giving me such a special color! Obsessed!"
There's nothing like satisfying that craving for rainbow-hued hair. Shortly after her new hair reveal, Kaley uploaded another photo.
Related: The half-bun is the easiest hairstyle to master this autumn.  
Completely surrounded by pinkness, Kaley wrote, "Pink obsessed this morning :)". This pretty, yet off-beat colour perfectly suits Kaley's The Big Bang Theory character, Penny.
Perhaps, in the next season of the show, Penny will be a struggling actress no more, because thanks to her pink hair, she will star in an indie flick with James Franco and Chloe Sevigny. You heard it here first.
The bubbly actress joins the ranks of Julianne Hough and Hilary Duff, who now prefer their hair in rainbow shades. Eye-catching, fruity-coloured hair is everything right now, whether you're going for a subtle, Instagram-filter effect, or the full, dunk-your-head-in-a-bucket-of-dye Kylie Jenner look.
Would you dare? I'm fighting a very serious inner battle between keeping my ultra-boring, black hair, and expressing my inner, fascinating and creative self with pinky-purple streaks. Guys, it's only a matter of time.
Related: "Today I tried 'plopping'. And it did very good things for my hair."  
The best celebrity hair transformations