WARNING: This post includes graphic details and footage, which may be triggering for some readers.
It's dark and the space is small. There's a mattress on the floor and, on the mattress, there's a woman with a chain around her neck and ankles.
It's November 2016 and a group of police officers have just used a crow bar to break into a shipping container in the backyard of the rural property of South Carolina serial killer Todd Kohlhepp.
The woman chained up is 30-year-old Kala Brown, also from South Carolina, who had been reported missing two months earlier.
Now, prosecutors have released footage of her rescue.
The video shows police officers find Brown, reassure her of her safety, and arrange a bolt cutter to break the chains on her neck and feet. "My neck's attached to the wall up here," Brown can be heard telling the officers.
She is then asked about her boyfriend – 32-year-old David 'Charlie' Carver – who was reported missing with her.
"He shot him," Brown told officers, referring to her kidnapper and the man who had raped her twice a day for the past two months, Todd Kohlhepp, 46.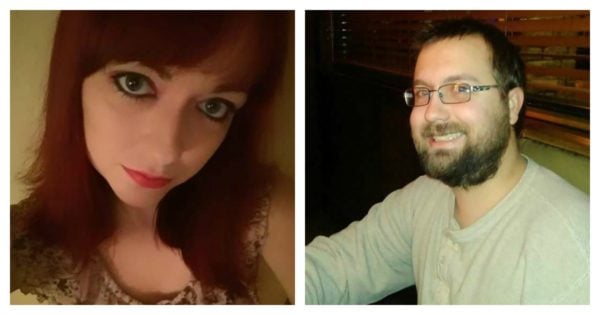 "Todd Kohlhepp shot Charlie Carver three times in the chest, wrapped him in a blue tarp, put him in the bucket of the tractor, locked me down here," she continued in a shaky voice.
"I've never seen [Charlie] again. He says he's dead and buried. He says there are several bodies dead and buried out here."
Brown explained how Kohlhepp had told her about the other people he'd killed. That there were bodies "all around the property".
My sister, the killer. Post continues below.

Brown and Carver visited Kohlhepp's property on August 31, 2016.
It was a business call - Brown had worked with the then 45-year-old real estate agent previously. She didn't know he was a registered sex offender.
Later, she told police Kohlhepp lead the pair to the back of the property, entered a shed and came out shooting a gun. The body of Carver was found in a shallow grave and Brown said Kohlhepp threatened to kill her, too, if she tried to escape.
On May 26 this year, Kohlhepp pleaded guilty to seven counts of murder, two counts of kidnapping and one count of criminal sexual assault. He is serving seven consecutive life sentences in prison.