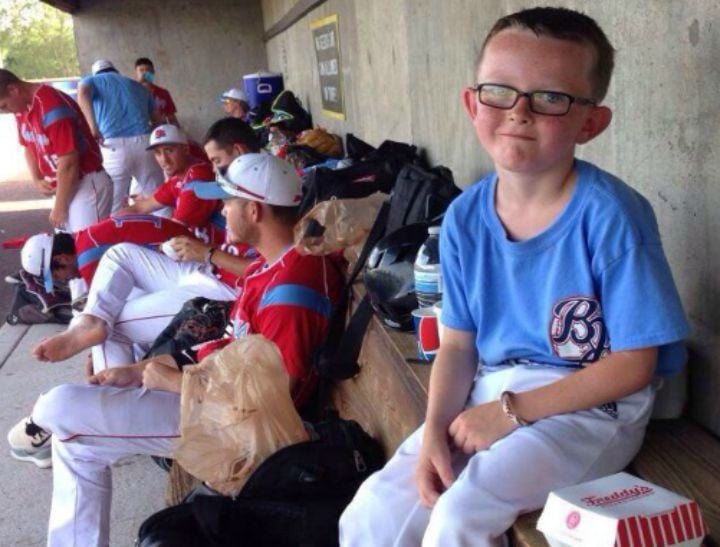 The photo shows a boy who's just been fatally struck in the head. So why are people sharing it online?
On Saturday, a nine-year-old boy was fatally hit by an adult player's bat during an amateur baseball game in Liberal, Kansas.
Freckled, bespectacled bat boy Kaiser Carlile was running to retrieve a bat during the National Baseball Congress World Series game when he strayed too close to the on-deck circle. That's when a player's practice swing accidentally struck him in the head — knocking him out cold, according to The Wichita Eagle.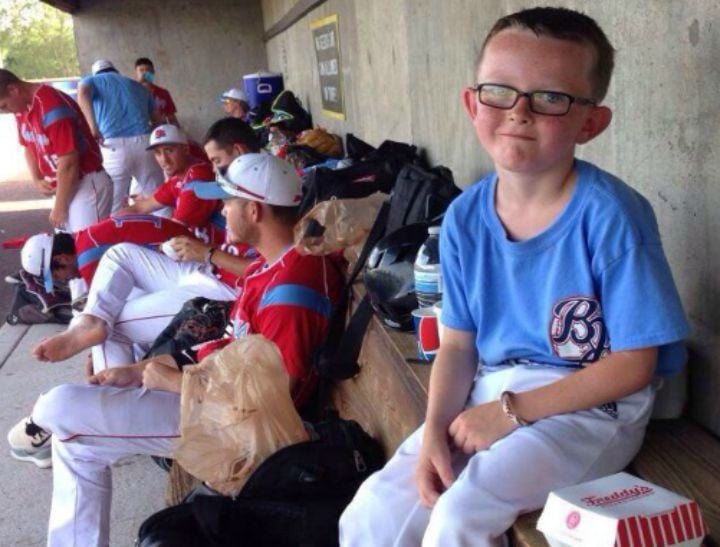 Before the umpire and local emergency crew rushed to save the boy, one of the baseball players hugged the boy's limp body to his chest.
In a photo capturing that emotional moment, the Liberal Bee Jays player Gavin Wehby clutches the uniformed boy to his chest. A patch of blood is visible in the little boy's hair. His feet hang loosely toward the ground, his neck slack, his striped little-boy socks visible above tiny white sneakers.
The little boy's condition in that moment is "unconscious" and "critical," as umpire and paramedic Mark Goldfeder later told media.
In other words, while Kaiser is not yet lifeless in the image, he's clearly unresponsive and hours away from death.
Following the photo being taken by an AP photographer, Kaiser was rushed to a local hospital's intensive care unit in critical condition. There, he underwent emergency treatment before ultimately passing away on Sunday evening.
Despite — or perhaps, because of — the tragic circumstances behind the image, that photo has been circulated widely online today.
Australian media organisations including Fairfax Media, News.com.au and the Daily Mail have all made the editorial decision to publish the image. The latter two chose to run the photo on the front of their websites, where readers are confronted with the sad moment as soon as they click onto the page.