Julie Bishop doesn't call herself a feminist. She leaves that to the rest of us.
Instead, she calls herself a Foreign Minister. A title she's earned and one she is respected in.
Still, in order to get there, she has persevered and pierced through a world dominated by men – just like any feminist might.
In a rare show of self-acknowledgment, Bishop has shared what it feels like to be an Australian woman in politics. More specifically, what it felt like to be the only woman in Tony Abbott's first cabinet when he won the Prime Ministership in 2013.
"It was pretty lonely," Ms Bishop told an Australian Women's Weekly event on Wednesday evening, The Sydney Morning Herald reports. "I would be sitting in a cabinet with 18 men and me."
She said she's faced what every women, at some point, has also faced: that moment of suggesting something, it falling flat, only for it to be picked up and re-suggested by a male in the room.
"I would say something, come up with an idea, put forward a point of view and wait for a response. Nothing," Bishop told the audience. "[Another colleague would then propose] exactly my idea, exactly my initiative and others would say 'brilliant, what a genius idea!'"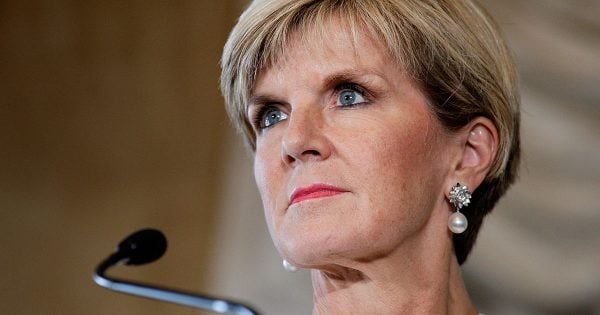 There were some familiar faces alongside Bishop's in the cabinet at that time.
There was the now Prime Minister Malcolm Turnbull, Minister for Finance Mathias Cormann, senator Barnaby Joyce, senator George Brandis, Christopher Pyne, Scott Morrison, the list goes on.
Addressing the crowd at last night's event, Bishop said sexism works like an "unconscious bias" in male-dominated work places. "It's almost a deafness that we still see in Australian society," she told the audience.
When Mia Met Malcolm. Post continues below.

Admitting what we all have always suspected, Bishop said her career in politics - which began in 1998 when she won the Liberal Party seat of Curtin in Western Australia - hasn't been easy. "It's not for the faint hearted," as she put it.
One of the most important things, she says, is for women to support each other. She, alongside the other female senators trickling into politics, make a point of listening to each other, and propping each other up in an industry where resilience - more than just about anything - is key to success.
"That's where women can support each other," Bishop said. "[For us to] say 'we can do this'. We can be legislators, we can be policy makers. We can be leaders."
Hear, hear.
Thank you - just by clicking on this and other content on Mamamia, you are helping to fund education for some of the world's most disadvantaged girls.
Together with our commercial clients and charity partner Room to Read, Mamamia's goal is to be funding 1,000 girls in school each and every day, by June 2020.
Learn more here about our ongoing mission to make the world a better place for women and girls.