There's no denying that accepting an award onstage in front of millions of viewers and hundreds of your most famous peers is an emotional experience.
And yes, sometimes we get teary watching our favourite TV stars be honoured for their hard work and exceptional skill.
Especially when that person is Julia Louis-Dreyfus and she's dedicating her latest win to her late father, who died just days before the 2016 ceremony.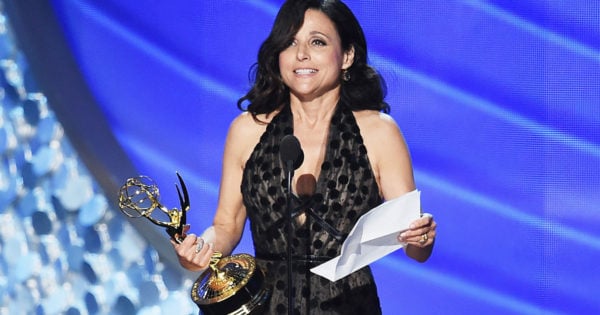 Taking the stage to accept the award for Outstanding Lead Actress in a Comedy Series for Veep, the actress made an emotional admission.
"I'd like to dedicate this to my father, William Louis-Dreyfus, who passed away on Friday," she said, as she shook and held back tears.
"I'm so glad that he liked Veep because his opinion was the one that really mattered."
Louis-Dreyfus also used her speech to apologise for the US's "current political climate".
"I think that Veep has torn down the wall between comedy and politics. Our show started out as political satire, but it now feels more like sobering documentary," she said.
See all the best dressers from the Emmys, 2016. 
Emmy Awards 2016 red carpet.