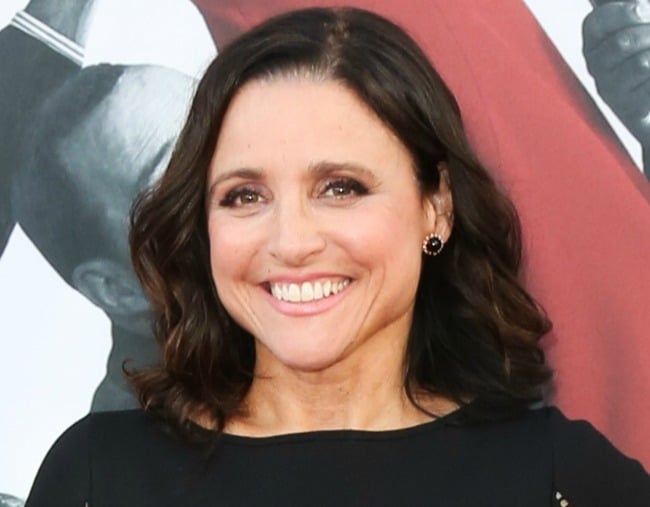 Emmy-winning comedic actress Julia Louis-Dreyfus says she is battling breast cancer and highlighted the case for universal health care.
Louis-Dreyfus, 56, who plays foul-mouthed fictitious US president Selina Meyer on HBO's Veep, said on Thursday, "one in eight women get breast cancer. Today, I'm the one," in a short post on her social media platforms.
"The good news is that I have the most glorious group of supportive and caring family and friends, and fantastic insurance through my union," the Seinfeld actress continued.
"The bad news is that not all women are so lucky, so let's fight all cancers and make universal health care a reality."
Just when you thought… pic.twitter.com/SbtYChwiEj

— Julia Louis-Dreyfus (@OfficialJLD) September 28, 2017
She did not give any further details of her health status.
Louis-Dreyfus won a record sixth Emmy award for comedy actress for her role as Meyer earlier this month. She became famous in the early 1990s for her role of Elaine on NBC's Seinfeld, which won her several awards.
She acknowledged that although she has "the most glorious group of supportive and caring family and friends, and fantastic insurance though [her] union," not every woman diagnosed with cancer would have access to those resources.
Hollywood was quick to react to the news, with most sending best wishes to Louis-Dreyfus and her family, and several supporting her use of her platform to advocate for healthcare reform.
Anna Kendrick wrote, "F–. F–. I don't think I realized how much I love this woman, who I don't know. Love her more for speaking up for others in this moment."
Kathy Griffin, who recently lost her sister Joyce to cancer, posted a lengthy thread commending Louis-Dreyfus for using her diagnosis to shine a light on universal healthcare, and addressing those responding negatively to Louis-Dreyfus' message.
Fellow comedian Rosie O'Donnell tweeted, "sending love to Julia Louis-Dreyfus reveals breast cancer diagnosis #BEwell."
Debra Messing commended Louis-Dreyfus, writing, "J sending all my healing energy your way. You are incredible to use this moment as an opportunity to support others. Thank you. Much love xd."
Christina Applegate, who is a breast cancer survivor, also reached out, replying, "Mama, find me. Let's talk if you want."
Judd Apatow posted, "Sending you love and strength but it appears you beat us to it and are sending the world love and strength."
Tony Hale, who co-stars with Louis-Dreyfus on Veep, wrote, "We love this woman."