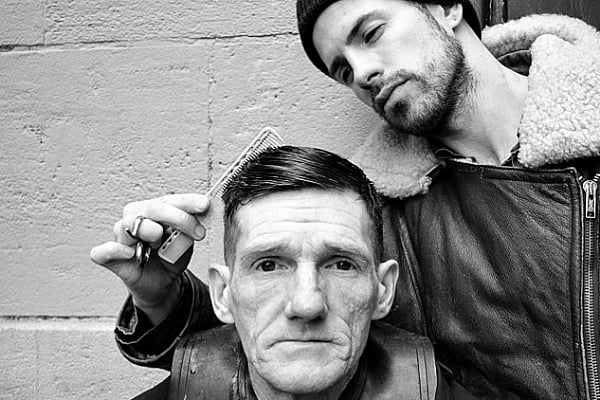 Joshua Coombes spotted the man from across the street. He was lying on the footpath in Downtown Los Angeles, not far from passing traffic. Men and women stepped over and around him, this inconvenience, this obstacle to their day.
Joshua approached the man, unsure of how to help. He started with something simple. A question. "Are you OK?"
That man's name was Tomás. And that day, he became one of the hundreds of people living on the streets around the world that Joshua, a hairdresser by trade, has connected with and transformed.
This is him…
 

View this post on Instagram

 
Based in London, Joshua, 32, offers his services free of charge to men, women and children experiencing homelessness. Out there in the open, he gives them a new style, trim or shave.
As the snips of hair fall to the footpath or onto the grass, something happens. A change. Their shoulders open up, they start to look a bit taller in the world.
And if you ask Joshua, it's not because of what he's done to their hair.
#DoSomethingForNothing
Josh is very transparent about the fact that he used to be one of those people he saw that day in L.A. The ones who step around or avoid a person in the street, unsure of how to help or fearful of what might happen if they did.