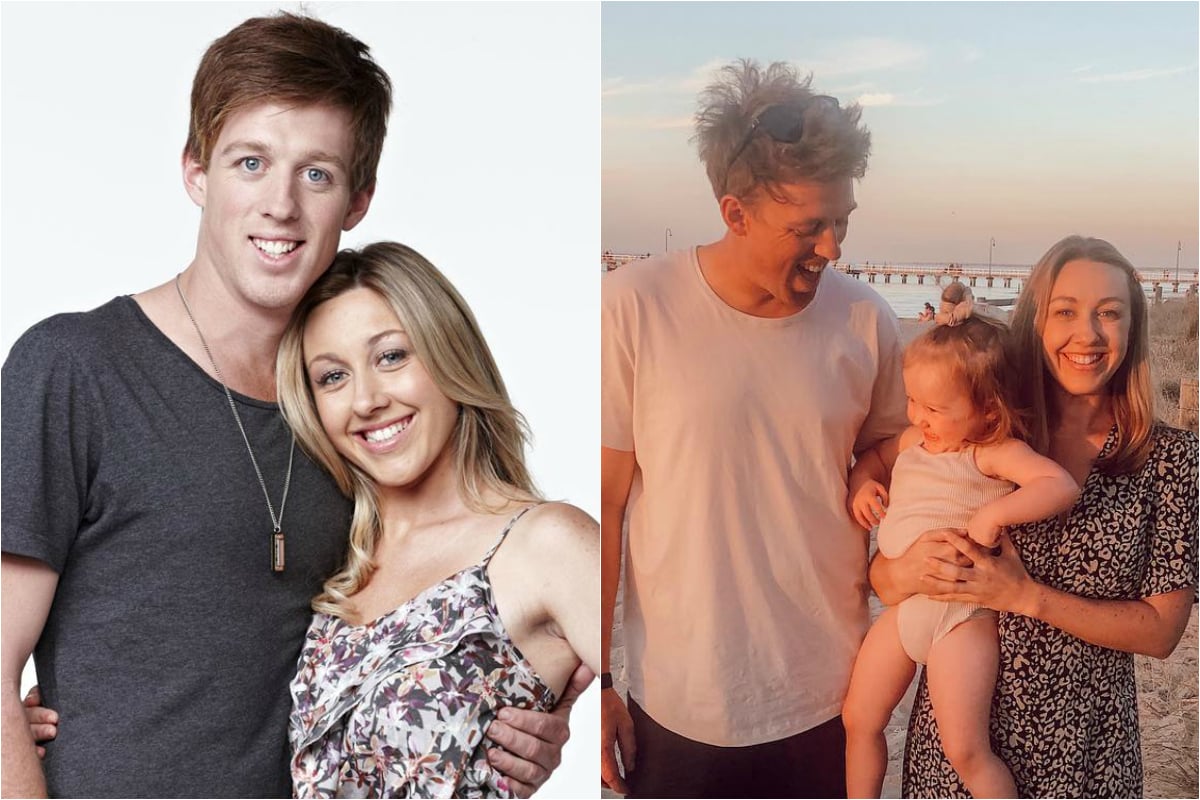 Josh and Jenna Densten are one of the most memorable couples to emerge from The Block.
Appearing on the 2011 version of the home renovation reality TV show, the young couple made headlines for their frequent fiery clashes.
"I don't think we took anything personally," Jenna tells Mamamia of their disagreements, eight years after first appeared on the prime-time television show. "We were so young, we didn't really know how to communicate in those stressful situations. We both wanted the best results and that's how we felt like we could get them."
"It's way harder than what you see on television," Josh, 33, adds."I think mentally and physically, it's just really difficult."
Demonstrating their strength as a couple, Josh proposed to Jenna the same night their house failed to sell at the auction – going from a heart-warming high to a heart-wrenching low within mere hours. In the end, their house was bought a few days later, ultimately making them a $50,000 profit.
Jenna, 32, says the surprise proposal "put things into perspective for me".
"We were so worried about the house and then Josh proposed and it makes you realise that's our life, it's not The Block."
Watch: The moment Josh and Jenna realised their house would not be sold at the auction. Post continues after video. 
The couple – who began dating when they were 19 years old before competing on The Block aged 23 – returned to the show for the All Stars edition in 2013, filmed in Sydney's Bondi.
Doing the series twice, they both vividly remember just how intense it was.
"I remember thinking if we got anymore than three hours sleep, that would be a good night," Josh says, with Jenna adding they would fall asleep at around 3am or even 4am each night.
"No matter what time you went to bed, the camera crew would wake you up at about 6am," Josh recalls. "They would just walk straight into your room, shine a camera crew in your face, and then they'd let you get changed and put a microphone on. You're pretty much on camera from 6am till about 10pm every night."
The stress from this environment means the north-Melbourne based couple don't – or, as they say, "can't" – watch the series now.
"You just relive it all [by watching the show]. Especially the judging – it is just so stressful, because you just poured your heart out into this room all week and then the judges just go: 'No, that room is no good'," Josh says.
Jenna agrees, adding it's "like this touchy subject".