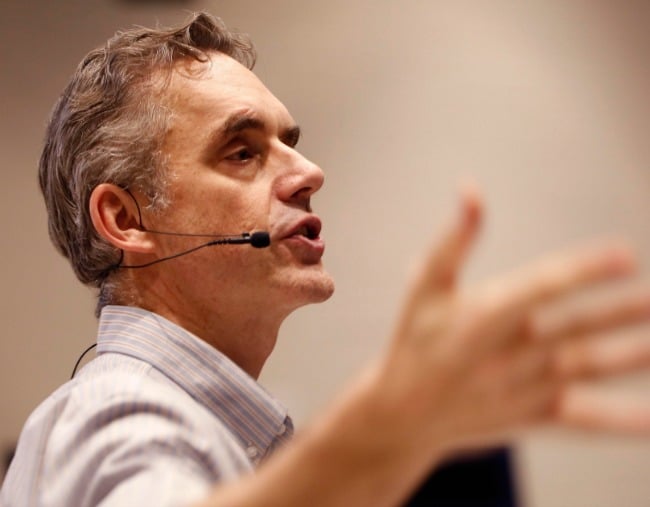 Jordan Peterson will appear on the ABC's Q&A on Monday, 25 February. 
Clinical psychologist and author Jordan Peterson is rarely mentioned in the media without being called 'controversial'.
In 2016, the University of Toronto professor attracted worldwide attention after he refused to use gender-neutral pronouns – arguing against Canada's human rights legislation that prohibits discrimination on the basis of gender identity. He's continued to become known for his criticisms of feminism, political correctness and the concept of 'white privilege,' and has evolved into an icon for his audience – mostly males in their 20s – who are adamant that this man has changed their lives.
But walking out of the Sydney Opera House two Saturdays ago, among a sea of thousands of men and women, you'd never guess that the man who had just spoken for close to two hours was such a polarising figure.
Just minutes before, he had been crying on stage, begging his audience to live by a simple philosophy: make the world a little more like heaven, and a little less like hell.
He had the room in stitches as he recounted the story of a young woman who presented to his clinic, miserable and with no energy, wondering why she had no drive to do anything at all. When he asked her about her diet, she said she ate essentially two small bowls of food a day, and never ate breakfast. 'Have you considered…' he recalled saying to her, 'that you may be slowly starving yourself to death?'
His show, part of his 12 Rules for Life Tour, made no mention of the views which have landed him at the centre of countless outrage storms.
Instead, his shows are focused on two or three rules from his book, 12 Rules for Life, and at each speaking event, he tries to explore a new philosophy about how these rules intersect.
For those who aren't familiar, his '12 rules' are as follows:
Stand up straight with your shoulders back
Treat yourself like someone you are responsible for helping
Make friends with people who want the best for you
Compare yourself to who you were yesterday, not to who someone else is today
Do not let your children do anything that makes you dislike them
Set your house in perfect order before you criticise the world
Pursue what is meaningful (not what is expedient)
Tell the truth – or, at least, don't lie
Assume that the person you are listening to might know something you don't
Be precise in your speech
Do not bother children when they are skateboarding
Pet a cat when you encounter one on the street
Yes – some are eccentric (rule 11 is more broadly a reference to allowing kids to take risks) – but for the most part, they're not particularly controversial.
At his Sydney show, the theme was meaning, and he was philosophising (that seems to be the only word that bears a resemblance to what he does) about rules 7 and 8. He warned against ever saying or writing anything you don't believe to be true. Students, he said, should never write an essay with the purpose of emulating their teacher's opinion. To do so is to chip away at who you are, and to ultimately damage your ability to pursue meaning based on your instinct.
In a Q&A afterwards, when asked what we should be teaching kids at school, his answer was simple: to play fair. He then added that the ability to stand up straight with your shoulders back and speak your mind is an invaluable skill, and one we should be fostering.
Listen to Jessie Stephens and Rachel Corbett discuss Jordan Peterson's book, 12 Rules for Life. Post continues after audio.

As a feminist, I didn't leave the show feeling attacked or belittled. There was no mention of gender whatsoever.
The dilemma, of course, comes with the fact that he does have controversial ideas about gender. Just because he didn't talk about them on Saturday doesn't mean they don't exist.