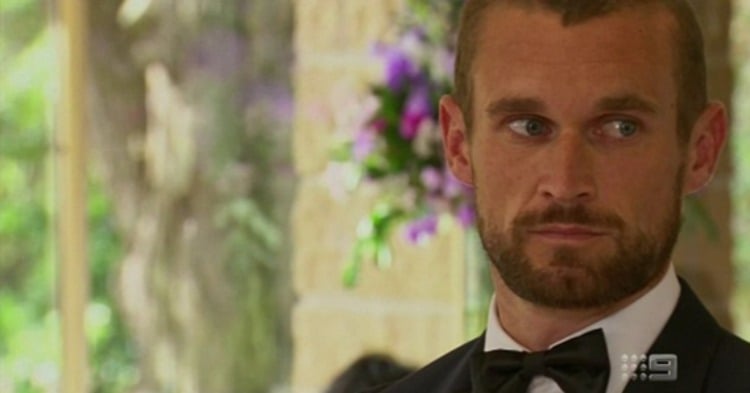 Shortly after breaking up with Clare on Married At First Sight, Jono Pitman boasted that he'd coupled up with a brand new girlfriend.
But his post-reality TV fling didn't last long, it seems: Jono appeared on the Fitzy and Wippa show yesterday, telling the Nova 96.9 radio hosts he's newly single once more.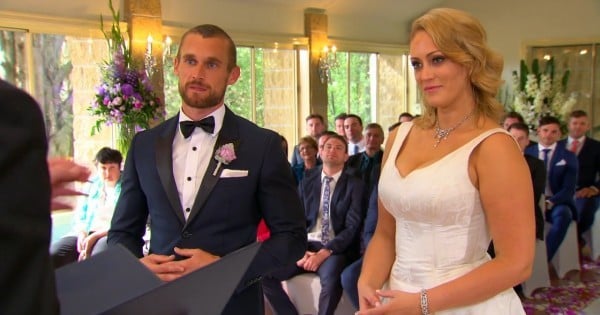 Image: Channel Nine
"It's been a bit up and down since the show. I can say now that I'm 100 per cent single," the 28-year-old tradie said.
"A week or two ago I said I was seeing someone," he went on, apparently referring to an interview from mid-April, when he said he was dating somebody he'd met before his reality TV stint.
"I was trying to work things out with a certain person, but I'm single," he continued.
Jono appearing on Fitzy and Wippa's show yesterday (post continues after video:)
Some claim Jono's post-Married At First Sight girlfriend was Melbourne woman Rachel Baxter, who appeared with him in a number of social media snaps following the show's filming.
A source even told Mamamia last month that Rachel was Jono's girlfriend prior to the show, but that their relationship ended in the lead-up to filming.
The source confirmed to Mamamia that after filming ended, Jono took back up with Rachel, who the source says was then "very much in love with him".
"He was still texting her while he was 'married'," the source added.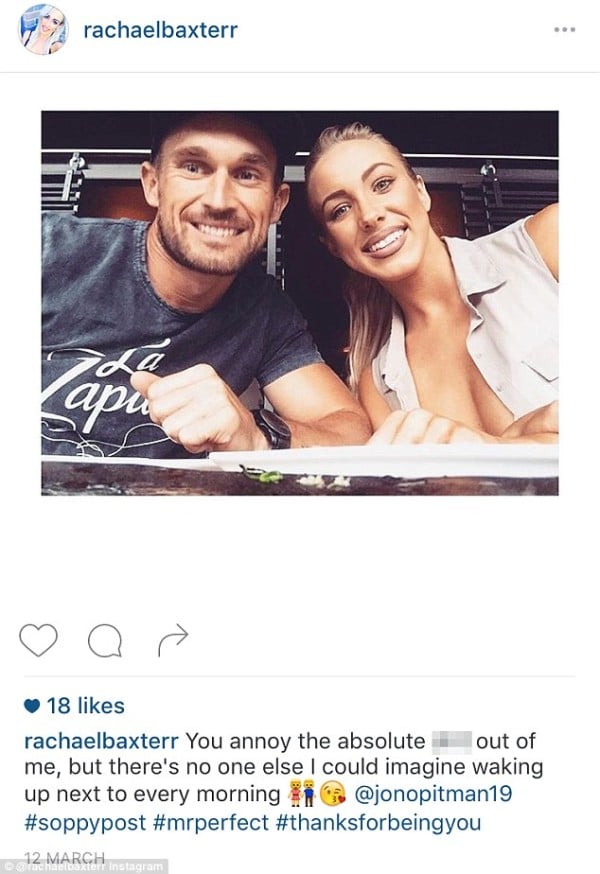 A 12 March Instagram post, which has since been deleted. Photo: Instagram/@RachelBaxterr via Daily Mail Australia
Jono also spoke with Fitzy and Wippa about his relationship with former "wife" Clare during yesterday's interview, saying they were no longer on speaking terms.
"Towards the end it did get [ugly], but in such a pressure cooking situation, with other things going on in her life and my life, it did get a bit ugly," he said.
He reiterated that Clare was not physically his type.
"Clare isn't somebody that I'd usually go up to in a bar and have a conversation with," he told Fitzy and Wippa. "That's not to say she's not an attractive girl, she's a beautiful gorgeous woman, but just not my type."
That phrasing was slightly more tactful than his on-air comments, such as his claim "she's not what I ordered" when Clare walked down the aisle.
Jono also drew criticism from some viewers for saying on the show there's no excuse for a woman to put on weight, childbearing included.
A Facebook post uploaded by Jono last month facetiously explores why he's single:
It's clear the animosity between the former couple is mutual, with Clare recently telling Mamamia Jono had "anger issues".
"Look, it probably wasn't appropriate for me to be on the show at all. And to be matched with someone with anger issues is another thing," she said in an interview earlier this month.
The 32-year-old also told TV Week that she was disappointed by Jono's reaction to her on the show.
"It's not a case of getting what you order. I am what I am and I'm not a McDonald's meal," she said.
You said it, girl.
#TeamClare
Watch the moment Clare and Jono called it quits: