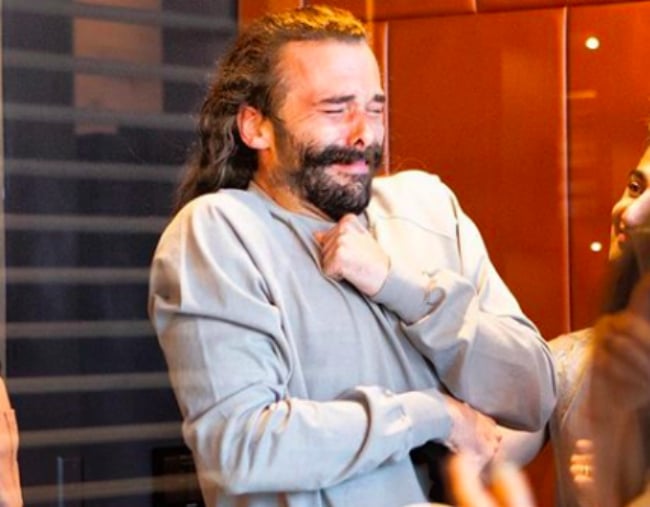 Anyone who has watched even one episode of the Netflix original series, Queer Eye, will know Jonathan Van Ness as the extremely wholesome and kind one, (even though they are all wholesome and kind), but Jonathan always tends to bring a next level sense of excitement and genuineness to the whole thing.
So when Netflix social media manager Jarett Wieselman posted the adorable video of Jonathan's reaction to Twitter, we could not look away.
JVN's reaction to finding out #QueerEye AND #GayOfThrones scored Emmy noms this morning is too pure — and then there's Tan, Antoni, Karmo, and Bobby's reaction to his double nom ???????????? pic.twitter.com/GnCVKJtTsw

— Jarett Wieselman (@JarettSays) July 12, 2018
There is jumping up and down. There are hair flicks. There are smiles, hugs and tears. Now that we mention it, all that is good and wholesome may just be present in this video.
He is the human version of a Lhasa Apso puppy and it is amazing.
"I'm so, so incredibly grateful to be able to represent the beautiful LGBTQIA community and am just so honored [sic] to be recognized for both Queer Eye and Gay of Thrones," Jonathan told Bustle. 
If you're wondering why Jonathan is significantly more excited than the other member of the fab five, it's because his show Gay of Thrones also received an Emmy nomination.
Queer Eye was nominated for the following Emmy's: Outstanding Structured Reality Program, Outstanding Casting For A Reality Program, Outstanding Cinematography For A Reality Program, and Outstanding Picture Editing For A Structured Or Competition Reality Program.
Of course, Jonathan isn't the only member of the fab five to celebrate the nominations, the other members shared their excitement on social media.
I don't know who created this photo but we feel Incredible right now! @queereye got FOUR #EmmyNominations so proud of my brothers, scout productions @itv @netflix pic.twitter.com/J1OOAsmEjc

— Karamo Brown (@KaramoBrown) July 12, 2018