Just yesterday, news was swirling that Game of Thrones co-stars Jon Snow and Ygritte (we mean… Kit Harington and Rose Leslie) were engaged.
Fans promptly lost their minds, despite the pair never officially confirming their upcoming nuptials to the public, and despite the fact the presumed 'engagement' had been reported by gossip sites a number of times over the years.
But all that has changed with one little newspaper clipping, and we feel as though we've just gone from "you know nothing, Jon Snow" to Three-Eyed-Raven in three seconds flat.
The Times of London has published an official announcement of engagement between the two 30-year-olds.
In the 'Forthcoming Marriages' section, the newspaper announced the upcoming nuptials of a "Mr K.C. Harington and Miss R.E. Leslie".
There's going to be a Game of Thrones wedding pic.twitter.com/8UGGMCh9GH

— Elliot Wagland (@elliotwagland) September 27, 2017
"The engagement is announced between Kit, younger son of David and Deborah Harington of Worcestershire, and Rose, middle daughter of Sebastian and Candy Leslie of Aberdeenshire."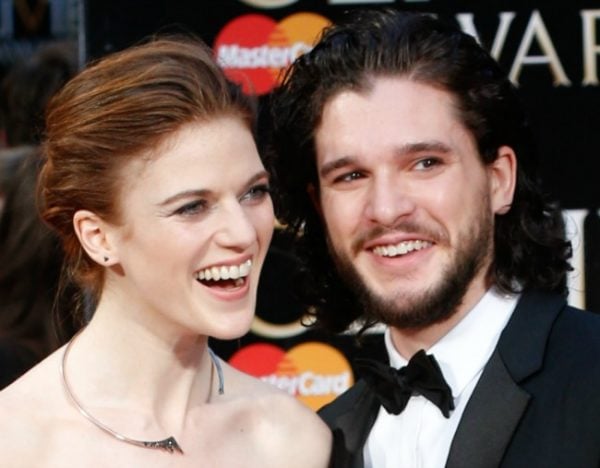 The only way this traditional announcement could get any more Game of Thrones is if a raven hand-delivered (or would it be claw delivered?) a scroll to us at our desks.
This real-life happy news is a welcome change for the way the couple was forced to end their relationship on-screen: Ygritte was killed with an arrow just as she was preparing to kill Jon Snow herself.
The pair met back on the set of the HBO juggernaut back in 2012, and moved into a $3 million mansion together earlier this year.
LISTEN: Laura and Lize discuss the season finale of Game Of Thrones' seventh season.
The award-winning podcast Mamamia Out Loud is doing their first live show. There will be laughs, disagreements and you can meet the hosts afterwards! We're also donating $5 of every ticket price to Share The Dignity so grab your friends and come along to share the love and laughs, get your tickets here.