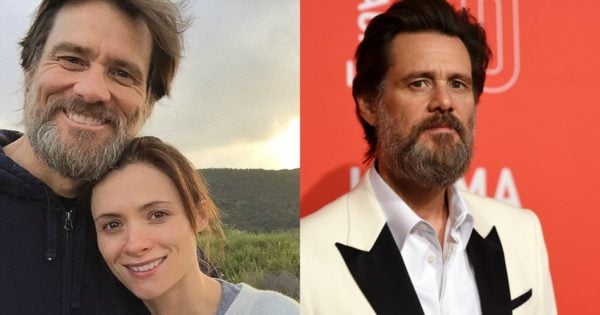 Trigger warning: This post deals with suicide.
A year-and-a-half after his ex-girlfriend Cathriona White was found dead, it's likely Jim Carrey will go to trial over her death.
Carrey – who dated the Irish makeup artist on-and-off for a few years after meeting her in 2012 – is facing accusations brought about by White's mother that he supplied his ex with the drugs that killed her.
According to the New York Post, a Los Angeles Superior Court judge denied a motion to throw out the lawsuit filed by White's mother, Brigid Sweetman, in October.
The lawsuit alleges the 54-year-old actor provided the prescription drugs — Ambien, Propranolol and Percocet — that subsequently killed her.
Carrey's lawyer Raymond Boucher has said the allegations are "malicious" and "predatory" and that the trial will be "very painful" because he "loved Ms White dearly".
In addition to the drug-supply accusations, Sweetman claims Carrey "knowingly" gave her daughter three sexually transmitted diseases during their three-year on and off relationship.
Among claims Carrey knowingly transmitted Herpes I and II, Chlamydia and Hepatitis to White "without warning" are allegations the Yes Man actor called White a "whore" and verbally threatened to silence her with the help of high-priced lawyers and fixers.
In court documents obtained by The Daily Mail, Carrey's defence deny all allegations Sweetman has levelled against him.
"A part of their attempt to shakedown Carrey for a multi-million dollar payday, Sweetman and her attorney have riddled the Complaint with severe ad hominem attacks and allegations about STDs, none of which are relevant to the cause of death," the documents read.
"None of these allegations belong in the Complaint."
A coroner ruled White's death as suicide after she was found dead in her LA home after overdosing on prescription medication.
Jim Carrey is set to face trial on April 26 next year.
If you are experiencing mental health issues or suicidal feelings contact Lifeline on 13 11 14 or Beyond Blue 1300 224 636