Jessica Rowe has recounted the "horrific" moment she was robbed at gunpoint by two drug-affected men.
The Studio Ten presenter was answering a hypothetical question posed by her co-host Sarah Harris while discussing a recent armed robbery during Thursday's episode when she made the stunning admission.
"If some drug-affected man held a gun to your head… would you care what they had to say?" Harris had asked.
"Yes, I would. It happened to me, and I would," Rowe responded, surprising her co-panelists.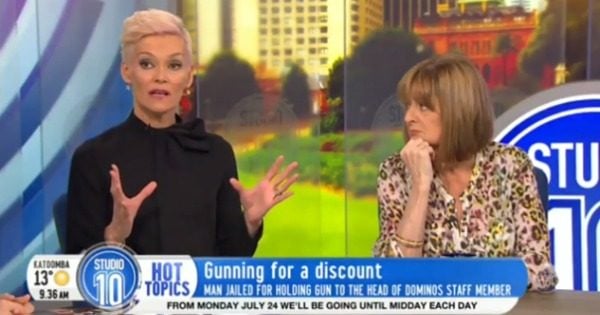 The 47-year-old shared how in an inner west Sydney suburb, she and her then-boyfriend were robbed by two men, one brandishing a very real looking gun that later turned out to be a replica.
"Years ago, in Leichhardt, my bag was taken and I was shoved on the ground with my then-boyfriend," she shared.
"Two young men, who had drug issues, one of them had a gun, it turned out to be a replica one, he pointed it at my head and was swearing and (it was) horrific.
"And I will never forget that."
Despite assuring her colleagues she was "absolutely fine now" she revealed that in the period following the attack, which the Daily Mail reports occurred in 1999, she was "terrified".
Listen: Jessica Rowe on the joys of being an imperfect mother.

"I used to hate people running behind me or getting too close," adding that "any small noises" could scare her.
However, something that aided her recovery was working with police to identify the perpetrators and sitting in a courtroom as they were tried.
"I went to court with my mum because I wanted to see them. That helped me enormously because... I felt I needed to look that person in the face," she said.
"So I think it does make a difference. That helped me get through it... because at the time, I was terrified."
Commenting on the fact that the gun was a replica, Rowe said "that didn't matter".
"Because it looked like it was a gun."