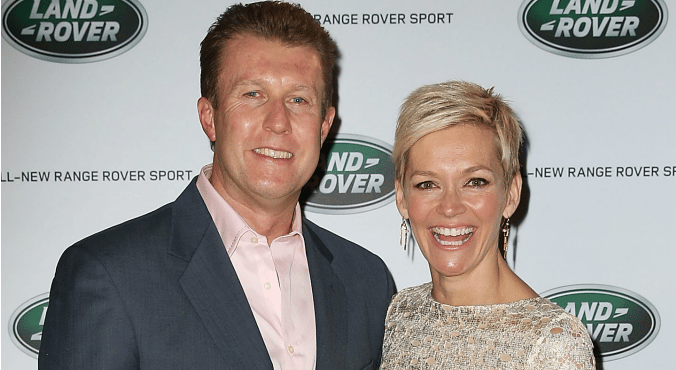 Image: Getty.
They're one of the Australian media's ultimate 'power couples', and now we've learned how Jessica Rowe and Peter Overton's relationship began. Spoiler alert: it's really bloody cute.
During a segment on Nova's Fitzy and Wippa show yesterday, the newsreaders celebrated Overton's birthday by recounting some of the big milestones of his life — and it turns out it was Rowe who initiated their fateful first date back in 2001.
A mutual friend, who was one of the now-Studio 10 host's colleagues at the time, had called Overton and urged him to "take Jess Rowe out, mate" (Aussie men, don't you love their style?).
Overton had other ideas, though.
"I said, 'Righto, get her to ring me. If she calls in 10 minutes, I'll take her out.' So she did," the Nine News and 60 Minutes presenter explained.
Watch: Jessica Rowe's 'Resilience' interview with Shelly Horton. (Post continues after video.)
Jessica Rowe, ladies and gentleman — what a gem she is. And her future husband was equally impressed with her gumption.
"I said, 'I love your style, you've got guts', we went out and we've been together ever since," Overton told Fitzy and Wippa.
Making the first move can be daunting, no matter who you are — but from Rowe's perspective it was a total no-brainer.
"I figured I had nothing to lose. I was sick of going out with dropkicks and Pete was the man for me," the 45-year-old admitted. (Post continues after gallery.)
Jessica Rowe on Instagram