Tomorrow, the newest season of Orange Is The New Black will finally hit our Netflix queues.
And while we've been anxiously awaiting the show's return for over a year, we'd be lying if we didn't admit we're only just putting our hearts back together after season four's dramatic end.
But if you think season five is going to be easier on our emotions, think again.
At least, that's what Jessica Pimentel – who plays Maria Ruiz on the show – told The Binge host Laura Brodnik.
LISTEN: Laura Brodnik speaks to Jessica Pimentel from Orange Is The New Black about  all the secrets of Season 5.
"The level of intensity is going to pick up quite significantly. This season is quite a bit darker," Jessica said, adding that the heartbreaking moment at the end of season four "looks like nothing" compared to what goes down in the newest season.
…Oh goodness.
The events of the newest season will take place over the space of just three days, something which Jessica says only ups the ante.
"The pressure cooker is on," she said.
"Some things need to happen in an hour, so that makes people make very good or very bad decisions depending on what is happening in that moment.
"And there are characters that have never interacted before interacting for the first time, which is kind of exciting for all of us."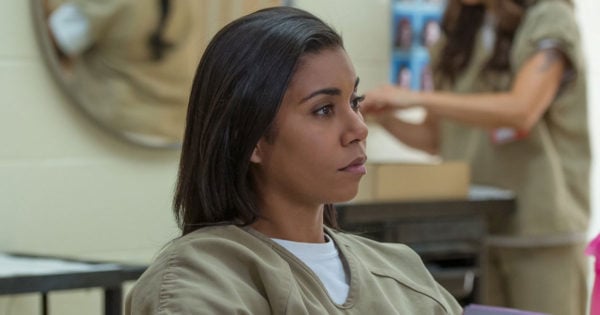 As for her own character - who we saw take on a more 'leadership' role on season four - Jessica says Maria "does what she has to do".
"It's really hard to say [what happens with Maria] without giving too much away...but she's very comfortable with taking on a leadership role," Jessica said.
"Because of given circumstances, everyone does what they think they need to do, to get what they need."
Not satisfied with the trail of teasers she had already left, Jessica then left us with one final line to tied us over for the next few days until we can begin our next Netflix binge.
"Wherever you see a line, cross it," she said.
And, that, our friends, is why June 9 could not come any faster.
Listen to the latest episode of The Binge for the biggest TV news of the week.