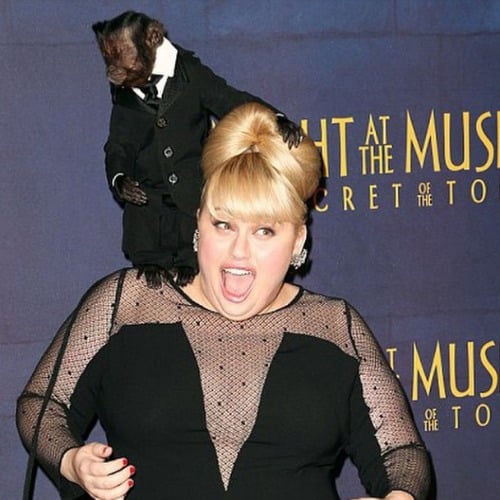 Since being crowned Australian Idol runner-up at just 16, Jessica Mauboy's achieved platinum sales and numerous top 10 singles. She's also starred in The Sapphires and Bran Nue Dae, represented Australia in its very first Eurovision performance, and has even dabbled in fashion design.
Now, the 26-year-old has turned her hand to fragrance, teaming up with BrandPoint to create Be Beautiful (FYI, she even designed the bottle). It hits stores next month, and it won't burn a hole in your bank account — the 100mL bottle is just $34.95.
Here's what Jess told us about the perfume process, her views on body image and diversity, and the challenges of long-distance relationships.
On Australian Idol, judge Kyle Sandilands made a comment about your body that still makes us cringe. How did it feel to be subjected to that scrutiny at such a young age?
"It was hard. I was a little tough cookie, I must say. At the age of 16 I had already been travelling with music, so I understood how that entertainment world works and sometimes makes you feel at your lowest. So I never let it get to me, I think that was important as a 16-year-old. I really think at that age you shouldn't be thinking about your body that way — obviously, being healthy and having a regimen you do, but not to the point where it makes you feel sick.
"You have to have a balance and good people around you. I had strong parents who helped me get through some of those comments and I had a community backing me, the whole country. I think [Kyle]'s remark was certainly wrong especially with me being 16-year-old at the time, but I was a strong kid. I was switched on and didn't really take it to heart and I had good people to say to me, 'You don't need that'."
Looking back, what do you wish 16-year-old Jess knew about body image?
"My gut feeling was always saying, 'You just do you. You do what feels right and what feels good'. I think that's how everyone should live their life mentally and physically. You do what's best for you. Sometimes those spurts of inspiration as well — there's no harm in getting advice and looking to someone for inspiration. Mine are Mariah [Carey] and J-Lo. Mariah's all about being funny and having a bit of a play but she's so solid in her business. J-Lo's so fit and she has a business mind, and she's just on it."
What were you hoping to evoke with Be Beautiful?
"I wanted something that identified me coming from Darwin. That's where I spent my days as a child, being outdoors and barefoot playing in the sand and the saltwater and freshwater. It was the smell of the rain and the freshness that always threw me and kept me standing there and daydreaming. That's what I wanted. Going through the process of breaking those smells down was really interesting and challenging, it was like talking another language."
How do you hope women will feel when they wear it?
"I think the three key words are comfortable, warm and alive. It's meant to make you feel like everything's possible."
What's a budget beauty product you swear by?
"It's a mascara from L'Oreal, the 4D — the silver bullet mascara [Lash Architect 4D False Lashes Mascara]. It's one of my favourites because it's thick, and if I just want to have a 'plain Jane' day I just smack that on and it makes my eyes bigger and fuller. I love Priceline, I'm always there!" (Post continues after gallery.)