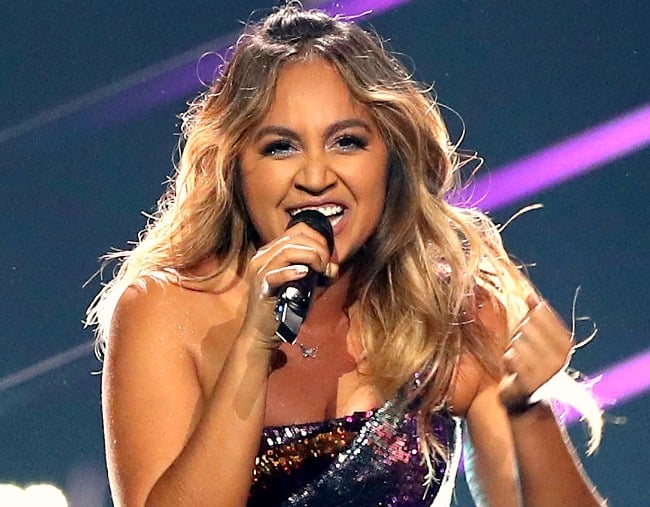 Yesterday, Jessica Mauboy sang 'We Got Love' at the International Eurovision Song Contest. She placed 20th out of 26 countries in the final, which if you ask us, is pretty great for a country that isn't even in the European Union.
Performing as a one-woman show, Mauboy sang and danced through all her high notes, and captivated the 11,000-strong live audience.
However, British Eurovision historian John Kennedy O'Connor had a very different opinion. Speaking to Hamish Macdonald on ABC's RN Breakfast program on Monday, O'Connor called her performance "terrible".
"I'm sorry. I thought, actually, she'd escaped from Wentworth and been let on stage," he began.
"It was dreadful… She was describing herself in the media as Australia's Beyonce. Clearly she's never seen Beyonce."
Slightly mean, offensive, and baseless, no?
Watch Jessica Mauboy's Eurovision performance here:

UK-born John Kennedy O'Connor dubs himself a Eurovision specialist. In 2005, he published his book The Eurovision Song Contest – The Official History followed by The Eurovision Song Contest: The Official Celebration in 2015. Despite this, he has never actually performed at Eurovision himself, nor does he have any experience singing or dancing. For the most part, he's just a guy that's made a career – albeit a very successful one – out of loving, hating and commenting on Eurovision.
Does this give him the right to blatantly, and rather uncritically, shame another country's performance? To a degree, yes.
But firstly let's highlight an inaccuracy.
For one thing – Kennedy O'Connor said that Mauboy has described herself as Australia's Beyonce; this isn't actually true. She did, however, support Beyonce during her Australia tour in September of 2009, with The Daily Telegraph reporting that Queen Bey was very impressed with the then-21-one-year-old.
One man's opinion aside, the majority of social media loved Mauboy's performance, with Keith Urban tweeting:
.@JESSICAMAUBOY – YOU ROCK GIRL!!!!!!!! – KU

— Keith Urban (@KeithUrban) May 10, 2018
Here's what others thought:
Repeat after me: Jessica Mauboy ???????? is ???????? an ???????? angel ???????? on ???????? earth ???????? pic.twitter.com/bRUKNKBDxP

— Eurowitch (@EurowitchTweets) May 11, 2018
Graham Norton just said @jessicamauboy performance was so good it could be Australia's first win. #Eurovision2018 Would Europe cope?

— Lisa Millar (@LisaMillar) May 12, 2018
I am shook. @jessicamauboy was robbed tbh and I am furious that her public vote was so low. Absolute anthem and one of the best songs of #Eurovision 2018. Fact.

— Keith (@Ragin_Spice) May 12, 2018
Considering our country probably has the most diverse European mix per capita of any other country in the world – I think there's load of merit for Oz in #eurovision Why are Brits so jealous of Aussies? Your ancestors could of been convicts ya know.

— Carrington Brigham (@DigitalMediaBoy) May 14, 2018
Mate, you hit it out of the ball park! What a brilliant voice you have. I wish the Eurovision scores reflected your talent. Know Aussies viewed your performance as spectacular. You did the country proud.????

— rainer galea (@rainergalea) May 14, 2018
And despite what the 'expert' has to say, we're inclined to agree.