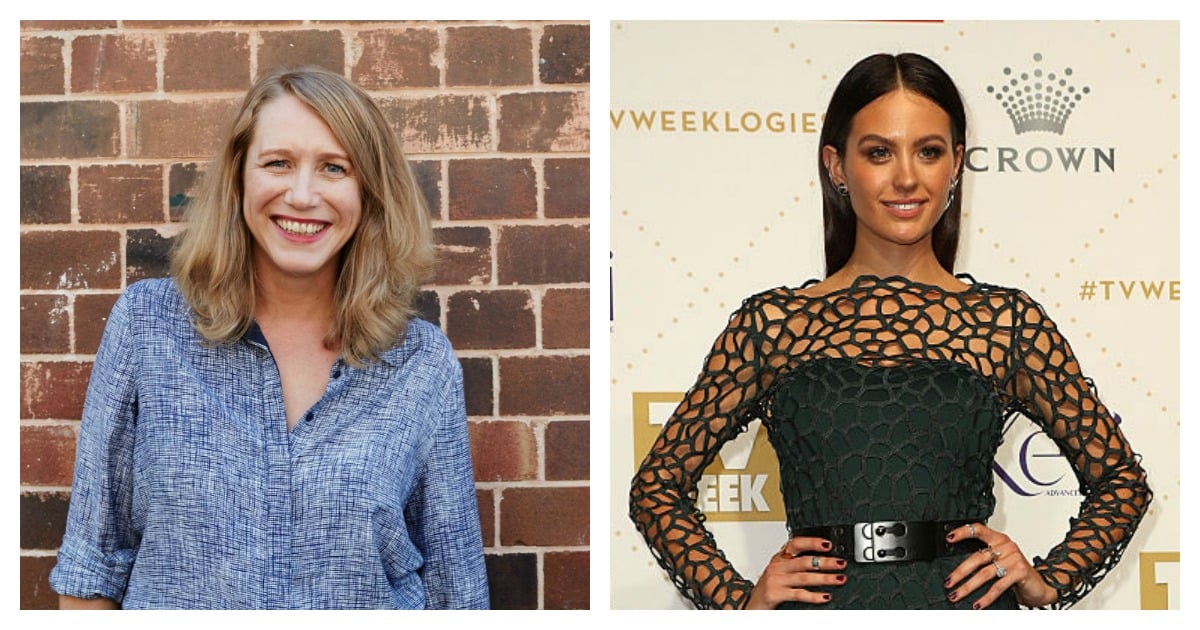 Step back, everyone. Deep breath. You see, women are disagreeing, in public. And it's going to get heated.
They're talking about which clothes, and how many clothes, are appropriate to wear to Australia's most prominent red carpet. And they don't agree.
It all began when Jesinta Campbell wore this on Sunday night: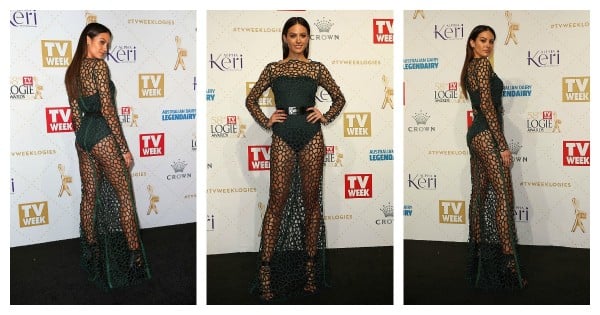 Then, radio presenter and writer Kate Langbroek commented on it.
Mia, Monz and Kate discuss Dress-Gate on the latest episode of Mamamia OutLoud
She took to Instagram, expressing disbelief that there was swimwear on the red carpet, and suggesting that Jesinta might be "desperate" for wearing this remarkable Camilla and Marc fishing net ensemble.
A treacherous act of sisterhood indeed.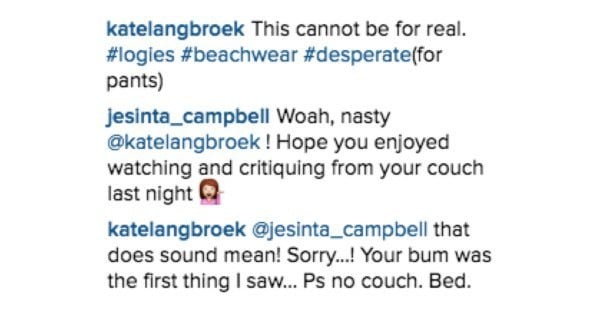 Before we wade any further into what followed, we need to make a couple of unarguable things very clear:
Jesinta Campbell is a remarkable young woman. She's a self-declared feminist, a hard-working TV presenter and model who uses her profile to promote truly worthwhile causes - indigenous disadvantage and at-risk youth, for starters. If she wants to go to The Logies in just a top hat and tights, she can do so. Personally, I would go down in flames defending her right to do just that.
And
What you wear on the Logies red carpet, in front of thousands of flashbulbs, camera phones and fashion commentators, is a deeply calculated decision, months in the planning. Jesinta Campbell, being a smart cookie, knew that her choice was not boring. She knew it was, as she says her own fiance called it - "a bit much". She knew it would get noticed.
So when Jesinta headed to Instagram to complain about Kate's comments, and to throw a little shade her way about being "on the couch" while she was twirling on the red rug, it's safe to assume that she also knew it wasn't going to be the end of it.
She was right. This website, Mamamia, wrote about it, defending Jesinta. Meshel Laurie, radio producer and friend of Mamamia's, returned fire, defending Kate. You can hear her doing it, here:
And so a "celebrity feud" was born.
Someone here isn't playing by the new rules of female critique. Those rules dictate that any comment that can't be distilled into "YOU GO, GIRL" is "bullying", "shaming" and certainly guilty of "tearing women down".
It doesn't matter how attention-seeking an outfit might be, giving it any attention is a betrayal of the sisterhood.
A stunning woman in a high-cut swimsuit on the red carpet? Nothing to see here. Two topless celebrities giving their accumulated 30 million followers the finger? Move along. A "naked dress", made of cling-wrap and sparkles. What, this old thing?
It's the equivalent of me wearing a bucket on my head to my office, and then getting upset when anyone mentions I am wearing a bucket.
In our hyper-visible age the great irony is that we all want everyone looking at us all the time, but if they dare to comment on what they see, they are disrespecting the contract.
That's what Kate did. She was scrolling through her feed on Logies night and saw someone's spectacular bum. She reacted. She added the unwise hashtag of #desperate, which transferred her comment from the sartorial to the personal, and then she got a reaction.
You can watch Jesinta Campbell's Logies confession below. Post continues after video. 
Meshel Laurie suggests that the Jesintas of the world should "toughen up". It's hard to disagree. Really, if someone saying something mean about your fairly outrageous Logies dress is the worst thing you have to deal with, you're having a pretty good day.
But swap seats and you can see how it must infuriate a young woman like Jesinta to be dismissed by older contemporaries as a 'desperate' 'floss poppet' for wearing a beautiful dress.
Older people always will look at what the young people are wearing and clutch their pearls. That skirt's too short. That top's too low. Those heels are too high. It's old school. It's judgmental. And there's nothing less cool right now than judgement.
But one thing it isn't is "shaming". Shame, as Monica Lewinsky recently exquisitely wrote, sticks like tar. I suspect that to a woman as strong and accomplished as Jesinta Campbell, someone not loving her Logies dress is water off her back.
Women don't have to agree about everything. They don't have to like the same clothes. They don't have to be on the same page about bum cleavage. They don't need to be in wild concurrence about whether a red carpet is more fun than a couch.
But they do need to own their choices. Whether that's a decision to wear a dress designed to get you noticed, or a decision to make pointed comments about other people's wardrobe choices.
That's what separates the women from the girls.
You can follow Holly on Facebook, here. 
You can check out all the looks from the Logies below.