Jennifer Lopez caused quite the stir this morning when the 47-year-old uploaded a photo of her torso to Instagram.
But some of her fans cried 'Photoshop!' when an unusual blur on the photo apparently indicated the actress and singer had not-so-successfully tried to alter her waistline.
"Look, if @jlo really has these abs, great for her but that dent in her back is not natural…" one commenter wrote.
"Why is a piece of her back missing?" wrote another, a third person posting, "Nice Photoshop girl!!! You also look good without it. Don't be insecure."
But Lopez was having precisely NONE of the haters' comments, and decided to respond to the ludicrous claims.
She even shared evidence of her post – which quickly got lost among the image's other 16,000 comments – on her Instagram story.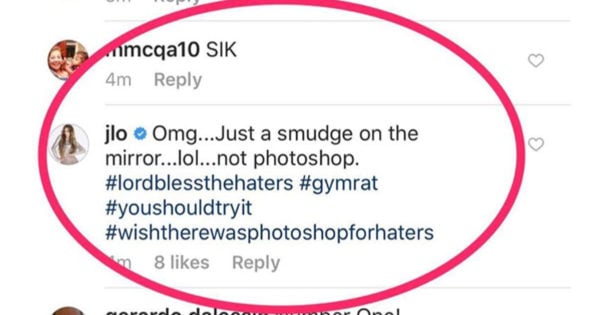 "Omg...Just a smudge on the mirror...lol...not photoshop," she wrote.
For good measure, she also added the hashtags #lordblesthehaters, #gymrat, #youshouldtryit and #wishtherewasaphotoshopforhaters.
The lesson learned? Don't mess with someone's body confidence. Especially if they are Jenny from the Block.
LISTEN: This woman is shutting down trolls by turning their words into cake in the most delicious idea ever.