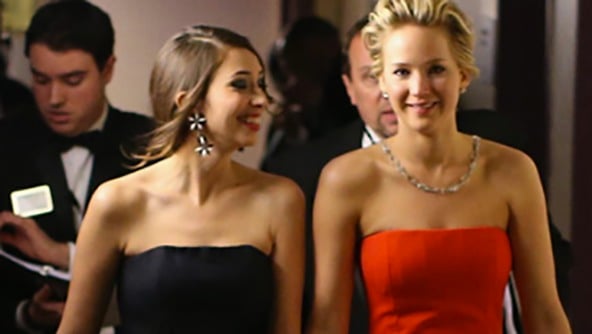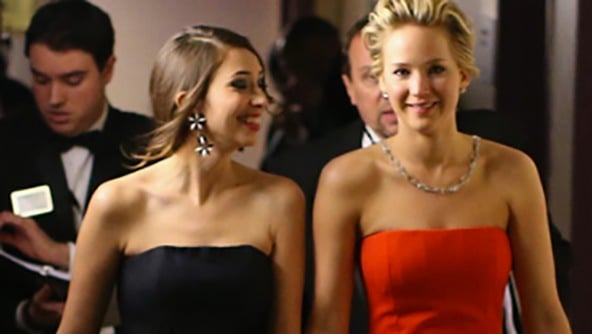 Jennifer Lawrence already has a real-life, normal-person best friend. Her name is Laura Simpson, and she's just written the most amazing essay about what it was like to be J-Law's date at the Oscars.
She posted it on MySpace (Who has a MySpace these days? One person: This girl) and everyone's gone mad because she's living out all our dreams of being J-Law's bestie.
Throughout the night, Laura stepped on Jennifer Garner's dress, got smashed with J-Law's dad at the bar, winked at Bill Murray, and makes buddies with Margot Robbie. In short, she's the perfect best friend for our beloved Jennifer Lawrence. 
Here's the whole thing – it's so good. 
The world watched as my date grabbed my neck while falling on the red carpet. But backstage that night, I had a blast feeding Kerry Washington and sniffing Brad Pitt.
This year, I was lucky enough to be invited to the Oscars. While every girl I knew squealed and asked what I was wearing I was riddled with anxiety. The day before the Oscars I had a fitting with Dior where I got to try on some beautiful dresses. I was between two dresses: the Carrie Bradshaw all-you-can-eat dress and the Angelina Jolie sexy leg kimono. I really wasn't sure if I would ever get back to the Oscars so I let my inner Carrie Bradshaw take over and went with the dress with eight pounds of tullle.
The fact that I was going to the show was no longer an idea but becoming a reality and like a 13-year-old girl at her birthday party, I had a complete meltdown. Somehow the night before the Oscars I managed to get into an argument with my best friend, my mom and my boyfriend. I think I cried more in the 12 hours before the Oscars than I have in 10 years—I was really getting into the drama of the evening.