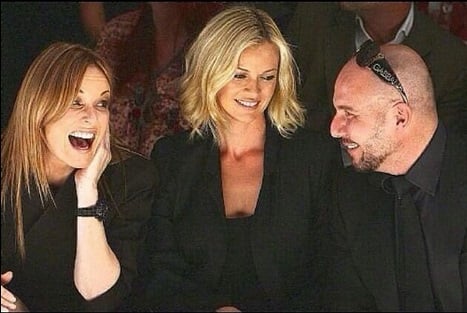 Australian celebrities gathered at the ASTRA awards at Sydney's Carriageworks last night and paid tribute to much-loved Charlotte Dawson.
Jennifer Hawkins and Sarah Murdoch  took to the stage last night at the 12th annual Astra Awards to pay tribute to Charlotte Dawson alongside her sisters, Robyn and Vicky, who said:
"Our family always knew Charlotte was beautiful, talented and we loved her unconditionally.

We didn't know that thousands of other people felt the same way we did.

We didn't know the extent of her talent and how many peoples lives she touched in such a positive way."
Sarah Murdoch, 41, who became a close friend of Charlotte's during filming for Australia's Next Top Model, appeared incredibly emotional as she said:
"For those of us who were lucky enough to know Charlotte she had a quality that I most admire in people, a generosity of spirit.

At worst she made sure everyone was okay. From the cast to the crew. And for those of us that worked closely with her, she was always there for us.

Her heart was always in the right place and she certainly had a true sense of right and wrong and that is why her legacy will live on. For fighting for what and who she believed in, for causes that meant so much to her, for people that she will never meet, but for whom she understood their struggle.

Charlotte used to laugh about the amount of nominations she had received, and never won one.

Well Charlotte, you certainly deserve this."
Jennifer Hawkins, 30, also shared a few words, saying:
 "When I joined Top model last year she graciously embraced me as part of the team and created some of the funniest moments of my TV career.

Charlotte's versatile, ease and wit made her truly original and she was and always will be a valued member of the Foxtel family."
Many Australian celebrities were brought to tears during the emotional speech by Jennifer and Sarah, which ended with Charlotte being honoured with a posthumous award, accepted by her sisters. A moving montage of Charlotte's career in television was also shown.
Click through this gallery of Aussie stars who attended the ASTRA awards in Sydney last night..