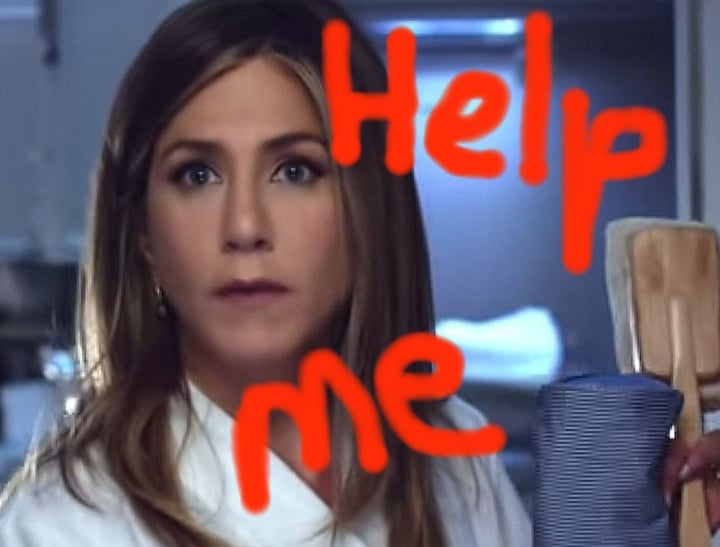 Look, admittedly – there's nothing dreamy about long haul flights in economy.
But for many of us, that's just reality. With the cost of a first class flight on Emirates being similar to a decent small car, the cramped seating and toilet lines of economy are all we can afford to get us from wherever we are….to wherever we want to be.
Unless you're Jennifer Aniston, of course.
The woman known for the most toned buns in the business has no business sitting those buns down on row 76F, folks, because her tush is all about LUX-UR-Y. And we know this from her brand new ad for Emirates, in which poor old Jen is trapped in her worst nightmare: an economy flight.
You can watch the infamous Emirates TVC below. (Post continues after video)
Clad in a fluffy white robe and shower tools at the ready, Jen breaks all of our hearts as we watch her knock pathetically on the economy toilet door, just looking for the shower. Won't someone tell her where the shower is?
But wait, it gets worse.
Jen manages to locate a handful of Dodgy Airlines flight attendants who are GASP! eating out of GASP! tinfoil containers with GASP! no intention of helping her find the shower because DOUBLE GASP!!!!! there isn't one. Nor is there a bar. Nor is there walnut panelling bordering a full lie-down bed with its own personal television and flight attendant. Because ~poverty.
But dry those tears, girls and boys, because guess what? It was all a dream! A very bad dream.
Phew.
Moral of the story: economy is a f*cking nightmare and no celebrity should ever be put through that pain. And as for the rest of us, well, suck it up, because it's just you and that farting man next to you for the next 18 hours, baby.