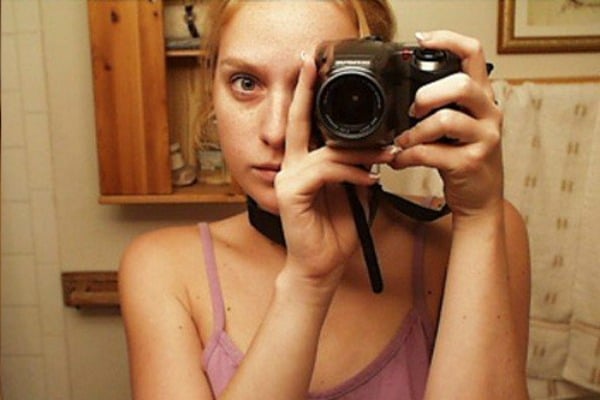 In 1996, Jennifer Ringley became the first woman to broadcast her life on the internet when she switched on her webcam in her Pennsylvania college dorm room.
At first, it was an experiment in real-time documentary.
The website Jenni launched, titled Jennicam, was updated with a grainy, still, black-and-white image from inside her dorm room every 15 minutes, 24 hours a day, seven days a week.
"It was basically a programming challenge to myself to see if I could set up the script that would take the pictures, upload them to this site," Jenni told the Reply All podcast in 2015.
"I shared it with a couple of friends, kinda 'look, I got this working.'"
But before long, the 19-year-old's experiment went from being seen only by her friends, to becoming one of the most popular websites on the internet.
Jennicam's Jennifer Ringley on the Late Show With David Letterman in 1998. Post continues below.
For years, Jenni broadcast her daily life to whoever wanted to click. From the mundane moments to the occasional glimpses of nudity and even incredibly private moments, the college student shared it all.
"The first time one boyfriend and I did start kissing, the site went down pretty much immediately from too much load," Jenni told Reply All. "And once he realised that just kissing has overloaded the site, he didn't come back into my room again. No one wanted to be on it, nobody wanted to come into my room."
For most of the time, the stream of photos were often just of an empty room as Jenni was in class. At other times, she was seen browsing the internet, sitting on her bed studying, doing laundry, brushing her teeth, masturbating, or reading a book.
And yet, despite the incredibly mundane nature of the website, at its peak, seven million people tuned in to watch the daily updates of Jenni's life.
"I am not an actor or dancer or entertainer," the college student's website read at the time, according to news.com.au.
"JenniCam is virtually unedited and uncensored. Except for camera-shy guests (whose wishes I humbly and happily respect, and hope you will too), and places the cameras can't reach, nothing is cut.
"Consider yourself warned: We are not always at home, sometimes you may see an empty house for hours or longer at a stretch. That's life. Or I may be working at my computer, watching television, or being intimate. You may see nothing but cats all day long.