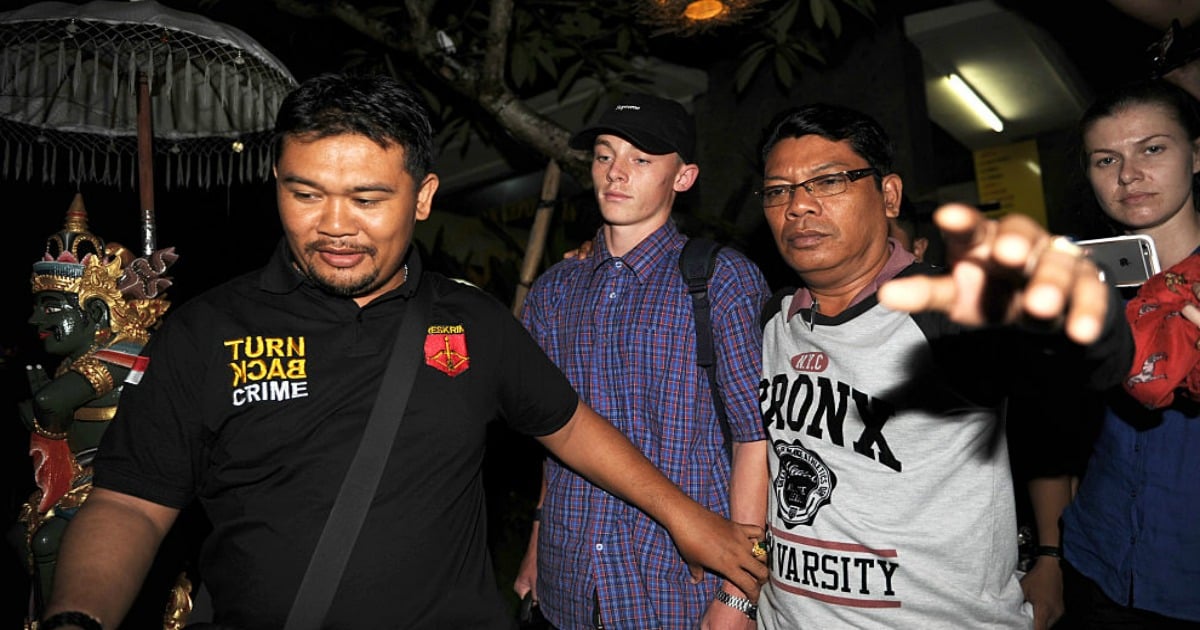 1. Jamie Murphy has celebrated with a Corona before arriving home in Perth.
The Perth teenager arrested and then released in Bai after being caught with a bag of white powder that turned out to be painkillers has flown home to Perth with his parents.
Murphy, a promising young soccer star, landed in Perth in the early hours this morning, being ushered through Perth airport by security and let out a side door to escape the media.
Travelling with his parents his father told the cameras "no comment" as they were followed earlier through Denpasar Airport.
His brother, Liam, posted a celebratory picture on Facebook, good heartedly calling his brother a "dumbass."
Kuta police chief, Wayan Sumara, said Murphy was "lucky." Mr Sumara said the bag of powder Mr Murphy "got in the street" was "medicine ... not drugs".
"They tell him 'just try this one you will feel better than now'. That is fine," Mr Sumara said.
"But after taking and he drink in room hotel he gets problem (at the club).
"(But) it is not drugs it is medicine."
A reporter asked the police chief if Mr Murphy thought it was drugs when he bought it and was told: "He doesn't know is this drug or not but according to the man who give in the street 'you can try this medicine, is better for your life,'" Mr Sumara said.
Yesterday, Australian Foreign Minister, Julie Bishop, issued a warning to the schoolies who travel overseas.
"I do urge young people and their families to remember that once you leave Australia, you're no longer subject to Australian laws, you're subject to the laws of that country," Ms Bishop told Sunrise.
2. The 'Santa Claus lie' is harmful for kids, an academic warns.
Two Australian academics have warned that Santa is harmful to kids and the "myth" of the big white guy is just for parents.
In an article in The Lancet Psychiatry, Dr Kathy McKay and Dr Christopher Boyle question whether parents tell their kids about Santa for their own good.
Dr McKay says the "Christmas" lie" has potential for harm when belief makes children a subject of ridicule among their peers. It can also undermine their trust in adult integrity, leading them to wonder what else in the adult world might be fabricated.
"They're a fiction told over an extended period of time and involve such a lot of detail, from leaving food out for Santa and his reindeer to writing letters to threats when children are naughty," said Dr Kathy McKay of the University of New England. "It's not about removing the magic from Christmas but about looking at why this lie has become so important to parents."
"I think most kids could care less where their presents come from at the end of the day," Dr McKay says. "As long as presents come. For adults though, this is something that they can enjoy - embrace their inner child - relive some fantasies and play. Maybe the lie is more important for parents."
The North Pole have been approached for comment but have only responded saying that Mr Clause is too busy getting ready for Christmas to respond to such hurtful accusations.
3. Mother jailed for crash that killed two-year-old daughter when she fell asleep at the wheel.
A young mother who fell asleep at the wheel while her two-year-old daughter sat unrestrained in the front seat next to her has been jailed after she crashed, her daughter being thrown through the window of her car and dying.
Tori Shipman, now 21, feel asleep at the wheel as she drove west along the New England Highway towards the Hunter Valley region in August 2015.
She crashed into a concrete pylon, her daughter, Jannali, sitting in the front passenger seat was thrown through the passenger side window and died.
In sentencing her Judge Norman Delaney said that Shipman had suffered an "indescribable tragedy"
The facts and circumstances of this case would be in the top one per cent of the tragic circumstances that I have ever encountered," he said.
The Sydney Morning Herald reports that Shipman had smoked cannabis and used ice before getting behind the wheel.
She was sentenced to a maximum of three years in jail.
4. Pauline Hanson says she is fed up with "reverse racism".
Pauline Hanson has told Senate that Australians are fed up with reverse racism and being told to be tolerant of people with no intention of assimilating into the Australian way of life.
She has proposed a private bill that seeks to decimate race-hate laws.
"There is a lot of this going on in this country," Senator Hanson said.
"We can't have an opinion, we can't say anything anymore."
Hanson's bill seeks to remove the entire part of the law dealing with prohibition of offensive behaviour based on racial hatred, reports The Guardian.
She said she is sick of being called a racist even though she has never uttered a single racist word.
She said she herself had been subjected to racist slurs like "white trash."
5. Teens at schoolies charged over balcony hopping as another teenager falls from a second story balcony.
Two schoolies and two 16-year-old boys have been caught balcony hopping in the early hours of Thursday morning at schoolies on the Gold Coast.
The four were seen moving between balconies on the 22nd floor of a Surfers Paradise hotel around 5am. They were fined by police being $243 infringement notices for high risk activities and evicted from the hotel.
Only hours earlier, another teenager had fallen from a second storey balcony after trying to retrieve some cigarettes on the Gold Coast.
The 17-year-old leant over the balcony at a Surfers Paradise apartment when he fell two floors at around 3:30am on Thursday.
He was taken to Gold Coast University Hospital where he remains in a stable condition, reports the ABC.
"He is very lucky," Senior Sergent Laurie Shevlin said.
The incidents have reopened the debate whether balconies should be shut off by hotel administration for schoolies.
Snr Sgt Shevlin said that decision was not a matter for police to consider but warned schoolies: "Don't get involved in these high-risk activities that could potentially be fatal."
Queensland Premier Annastacia Palaszczuk also said the government would not interfere in matters regarding the closure of balconies.
"I'm not going to get into the business of policing individual hotels," she said.
6. Dreamworld told to fix safety hazards before the theme park reopens.
Teen told he will never get through the HSC.[/img_caption]Changes to the curriculum coming in from next year, meaning that students must meet reading and writing benchmarks before getting their HSC, is putting unnecessary pressure on young students.
A mother whose year 8 child was told to consider the army as he would not get through the HSC has begun a petition against the reforms.
In changes to begin next year Year 9 students will have to achieve a Band 8 in NAPLAN or pass an online literacy and numeracy test in the years following before they can receive their HSC.
The Daily Telegraph reports one mother, Martine Beaumont's 14-year-old son was told to consider not finishing school because he would struggle to pass the test.
The young teenager has dyslexia and ADHD and was told by a teacher to instead look at traineeships or even the army.
"She said to me it's going to be hard and not all kids are going to pass, but we're going to do all we can to make sure that you pass," Jackson told The Daily Telegraph.
"Then I was given options to look at, careers I could do without my HSC."
But BOSTES spokesman told The Daily Telegraph that there was an opportunity for students who did not achieve the Band 8 NAPLAN and they could sit an online test twice a year until they reached the minimum literacy and numeracy standard.
Do you have a story to share with Mamamia? Email us [email protected]