Every fortnight for more than 60 years, James Harrison has made his way to the Red Cross blood bank and donated blood.
But this is no ordinary blood donation.
In a regular blood donation, three lives could be saved, while a plasma donation could save 18 lives.
But in 81-year-old James Harrison's unique case, his blood has helped saved the lives of 2.4 million babies.
James' plasma contains a rare antibody that is used to make a medication known as Anti-D, which protects unborn babies from Rhesus D Haemolytic Disease (HDN).
Known as the man with the golden arm, James' blood is so in demand, he's made 1173 blood donations since 1957.
On Friday, James made his final benefaction, as he retired from donating blood.
"It's a sad day for me. The end of a long run," the Central Coast-based man said while donating blood at Sydney's Town Hall Donor Centre.
"I'd keep going if they'd let me," he said.
On his last day in the donating chair, half a dozen Anti-D babies and their mothers came to the Donor Centre to personally thank James.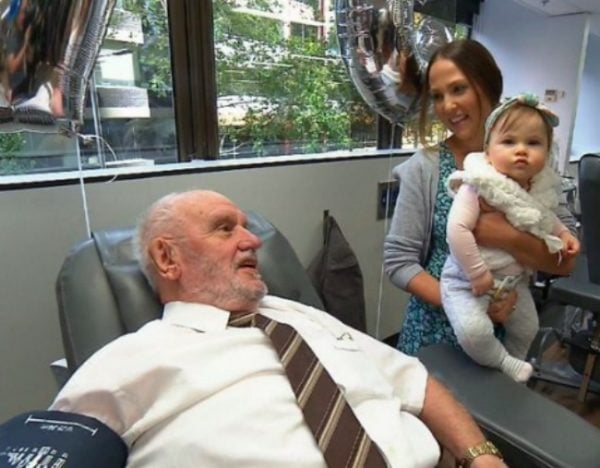 HDN is a potentially deadly condition that can arise if babies have an opposite blood type to their mother.
If a pregnant woman with an Rh negative blood type is carrying a baby with an Rh positive blood type, her body may register the baby as a foreign threat and try to destroy the 'invader' by producing antibodies, as if it is fighting off a virus.