I am a senator of Australia and I have a 21-year-old son who has a problem with ice.
It was the speech that forced Australia to stare its ice addiction problem in the face. Independent senator in Tasmania Jacqui Lambie addressed parliament in August 2015, pushing for legislation that would grant parents permission to force their drug-addicted children into rehabilitation.
In an unexpected show of emotion, she told parliament her 21-year-old son Dylan Milverton was addicted to methamphetamine. "I'm not talking to my son any more, I am talking to a drug," she told the senate.
Lambie had recently asked Milverton to leave her house because he had been stealing money and possessions. He was also due to face court for offences around counterfeit money, drug possession, and driving while his licence was suspended.
Now, she has revealed her son – who has been clean for more than 15 months – is still angry at her for launching his private struggles into the public spotlight.
"It was well worth doing, but Dylan's still a little annoyed about it," the 46-year-old senator told A Current Affair tonight.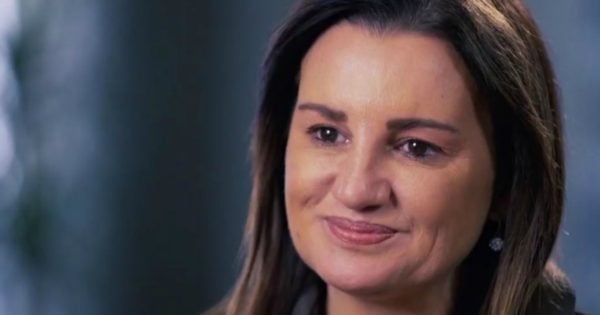 "I keep saying to him, 'But mate, bottom line is you were going to court six weeks after that. You were going to be front page news anyway'."
Lambie said she wasn't sure if she would go ahead with the speech that August day in 2015.
She knew she would address parliament on the issue, she wasn't sure if she would bring her family into it.
"I had a gap in my speech of two lines, where it said 'if you want to go, go now"," she said.
"I got to that - if you look back I probably hesitated for a few seconds. I just went: 'I've just got to bite the bullet'."
Listen: Why Jacqui Lambie is not your average politician. (Post continues below.)

In October 2015, Milverton travelled from his Tasmanian home to Queensland to receive rehabilitation treatment for his ice addiction.
"Off to Qld for 12 months to do rehab next week," he wrote on his Facebook page at the time.
"I've lost everything I ever owned and had thousands stolen.
"My bank accounts overdrawn, I've lost my family and everybody I was close to because I chose to smoke some meth and go on benders occasionally."
NOW: Senator Jacqui Lambie threw her hat into the political ring, and never looked back. #9ACA
FULL STORY: https://t.co/mjnt9l4Ot1 pic.twitter.com/ctaf01MWDo

— A Current Affair (@ACurrentAffair9) April 12, 2017
Lambie isn't delusional about the possibility of her son relapsing into addiction, however she's hopeful he'll stay clean.
"I'm not delusional because I know the hold that ice has," she told A Current Affair this evening.
"I'm just about 99 per cent sure Dylan will get through it and he will be a much better person out of it. And that's fine. But, as a mother, I still like to make sure that I'm being vigilant and aware of what is going on around Dylan."
"Dylan's very much like me. Very bloody independent and that can sometimes work against us."