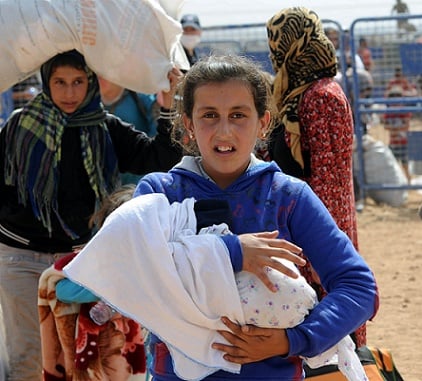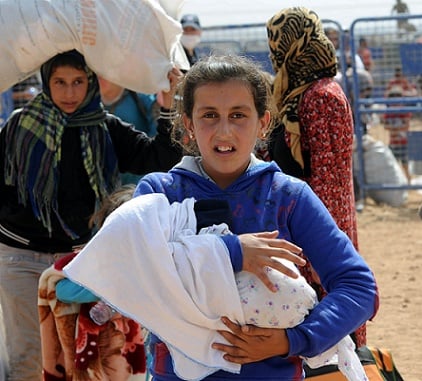 TRIGGER WARNING: This article deals with accounts of sexual assault and violence. It may be distressing for some trauma survivors.
Captured women and children from a religious minority in northern Iraq have been enslaved and sold among Islamic State jihadists, the ABC reports.
While reports about the group's enslavement of women and girls have been circulating for months — as Mamamia reports below — the radical organisation has just admitted to the atrocities for the first time in its propaganda magazine, Dabiq, released on Sunday.
Dabiq wrote in an article entitled The Revival of Slavery Before the Hour that by enslaving Yazidis, IS had restored an aspect of sharia law to its original meaning.
"After capture, the Yazidi women and children were then divided according to the sharia amongst the fighters of the Islamic State who participated in the Sinjar operations," the article said.
Previously, Mamamia wrote:
You know the Islamic State is a radical, barbaric militant organisation.
You know it's capable of beheading men just for doing their jobs, of threatening peace-loving populations with acts of terror, of driving innocent men, woman and children away from their homes.
But the group has another way of terrorising civilians: the rape and sexual enslavement of women, and of girls so young they haven't even reached adolescence. And while international humanitarian organisations have been reporting the assault of girls in Syria and Iraq for months, chances are you haven't heard anything more than a few scattered whispers about this horrifying phenomenon.
Amnesty International says "possibly thousands" of women and children have been abducted since the Islamic State took control of northern Iraq  in June. Teenagers and young women in particular have been raped, forced to marry fighters, or sold into sexual slavery, Amnesty reports, while some of the Yezidi and Christian women were buried alive or gang raped, according to grassroots media organisation Your Middle East.