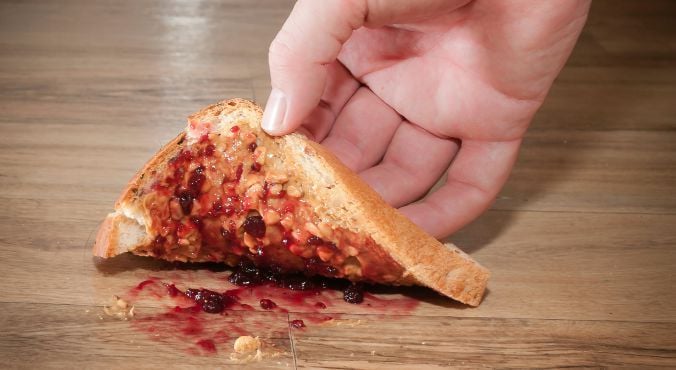 Image via iStock.
By: Paul Dawson, Clemson University
When you drop a piece of food on the floor, is it really OK to eat if you pick up within five seconds?
This urban food myth contends that if food spends just a few seconds on the floor, dirt and germs won't have much of a chance to contaminate it. Research in my lab has focused on how food and food contact surfaces become contaminated, and we've done some work on this particular piece of wisdom.
While the "five-second rule" might not seem like the most pressing issue for food scientists to get to the bottom of, it's still worth investigating food myths like this one because they shape our beliefs about when food is safe to eat.
So is five seconds on the floor the critical threshold that separates an edible morsel from a case of food poisoning? It's a bit a more complicated than that. It depends on just how much bacteria can make it from floor to food in a few seconds and just how dirty the floor is.
Where did the five-second rule come from?
Wondering if food is still OK to eat after it's been dropped on the floor (or anywhere else) is a pretty common experience. And it's probably not a new one either.
A well-known, but inaccurate, story about Julia Child may have contributed to this food myth. Some viewers of her cooking show, The French Chef, insist they saw Child drop lamb (or a chicken or a turkey, depending on the version of the tale) on the floor and pick it up, with the advice that if they were alone in the kitchen, their guests would never know. (Post continues after gallery)
Colourful food trends on Instagram
In fact it was a potato pancake, and it fell on the stovetop, not on the floor. Child put it back in the pan, saying "But you can always pick it up and if you are alone in the kitchen, who is going to see?" But the misremembered story persists.
It's harder to pin down the origins of the oft-quoted five-second rule, but a 2003 study reported that 70% of women and 56% of men surveyed were familiar with the five-second rule and that women were more likely than men to eat food that had been dropped on the floor.
So what does science tell us about what a few moments on the floor means for the safety of your food?
Five seconds is all it takes.
The earliest research report on the five-second rule is attributed to Jillian Clarke, a high school student participating in a research apprenticeship at the University of Illinois. Clarke and her colleagues inoculated floor tiles with bacteria then placed food on the tiles for varying times.