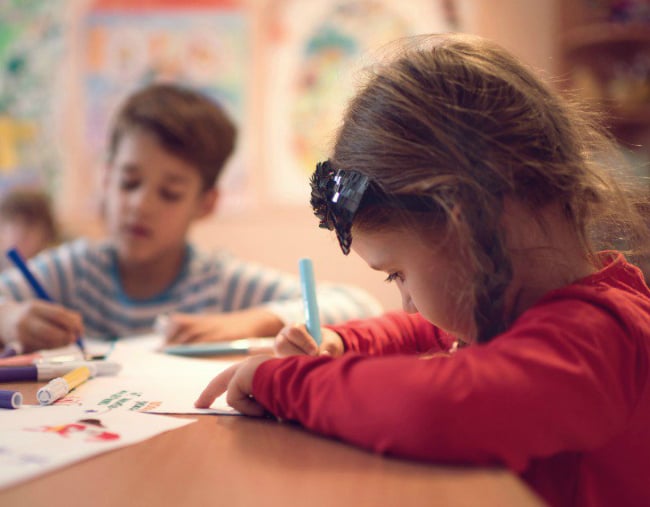 Even if your child has been around the preschool block, starting kindergarten is a big deal. Beyond being separated for hours at a stretch (the heartache! the joy!), your child will have expectations to meet and standards to master. "Kindergarten today is what first grade was 20 years ago," says Marcy Guddemi, PhD.
Read on for expert tips for fostering the best kind of "kinder-readiness" — but don't worry if your child hasn't mastered all of them by the first day of school. Guddemi insists that learning happens at different rates for different kids, and the best thing you can do for your child at this age is to encourage a love of learning. Hint: It's all about cultivating confidence and independence at this point.
Encourage curiosity.
Kids need to build something experts call "executive functioning," which is a fancy way of describing a skill set that includes making decisions, multi-tasking and being persistent. "The way to foster executive functioning is through creative play," Guddemi says. To do it, turn off the TV and electronic games, and get out some blocks or Legos and practice building a city, or role-play scenarios like restaurant or doctor. Letting your child guide the play shows her that you have confidence in her decision-making skills, something she'll need in the K classroom and beyond.
Practice writing his/her name.
Sure, he's not going to fail kindergarten if he can't string those four or nine letters together, but think of the confidence boost he'll get if he can, says Amy Mascott, literacy consultant, reading specialist and creator of teachmama.com. Strive for legibility, not perfection. He'll have plenty of time to finesse his work once school starts.
Watch: There are two kinds of parents when it comes to back to school shopping. Post continues after video.
Begin learning about letters.
Recognising letters is the first step of reading readiness; understanding the sound each one makes is the next (often harder) leap. Mascott recommends fun learning games like Alphabet Hide-and-Seek. To play, make 26 simple flash cards, one for each letter. "Hide" them around the house, and have your child call out the letters as he finds them. As he does, talk with him about the sound that letter makes. Once the entire alphabet has been found, help him arrange the letters train-style in order on the floor.