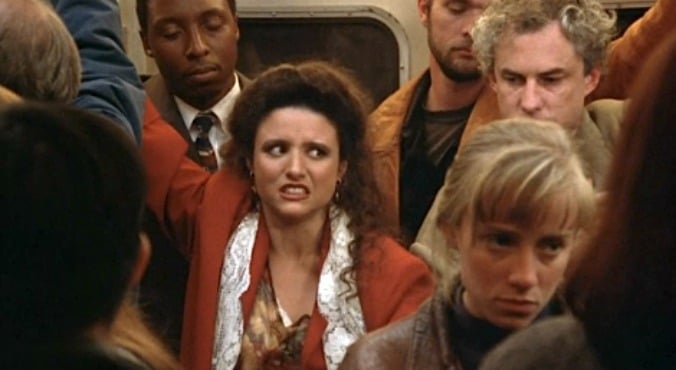 Image via Seinfeld/NBC.
The average Aussie spends 29 minutes getting to work. That's almost a full hour a day round trip.
Given that the average Australian works 48 weeks a year, that means that we're currently spending almost 240 hours on public transport a year. TWO HUNDRED AND FORTY HOURS. That is ten full days a year.
I digress. I have never really liked catching public transport to work, and I prefer to ride my bike. Now I have further evidence as to why public transport is actually the peril of our existence bad for our health.
RELATED: The pros and cons of public transport makeupping.
And if you catch public transport regularly – brace yourself.
1. Sleep
The longer you commute, the more likely you are to have poor sleep. A group of Swedish researchers analyzed data from roughly 21,000 people who worked more than 30 hours a week.
Their findings, published in the journal BMC Public Health, showed that a longer commute (either by train, bus or car) corresponds with poor sleep quality and exhaustion. (Post continues after gallery.)