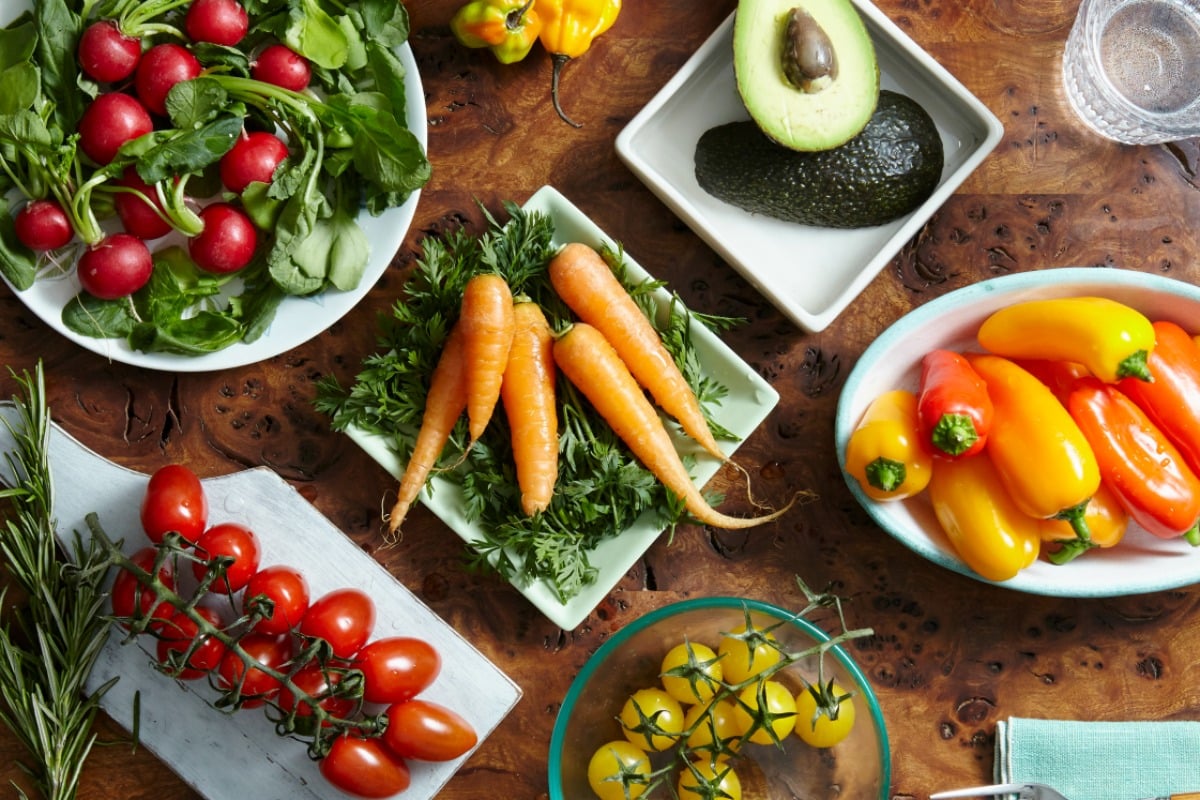 Dr Amelia Harray, Curtin University; Malcolm Forbes, University of Melbourne; Natalie Parletta, University of South Australia; Rosemary Stanton, UNSW; Katherine Livingstone, Deakin University.
Vegetarianism is on the rise in Australia, as many vegetarians will gladly tell you. While many people who eschew meat products do so for the sake of animals and the environment, we're starting to learn more about the negative health effects of meat and the benefits from eating a plant-based diet.
Psst – check out this cooking hack for chopping tomatoes. Post continues after.
We asked five experts if a vegetarian diet is healthier, and four out of five said yes.
Amelia Harray – Dietitian – Yes
Yes, so long as the vegetarian foods are also healthy. Vegetarian eating patterns have been associated with lower risk of premature death, while red and processed meats increase the risk of colorectal cancer. Australian diets are typically high in meat and low in vegetables and legumes.
Plant-based alternatives to meat, such as legumes, nuts, seeds and tofu, have similar distinguishing nutrients (iron, protein, zinc), while being naturally lower in saturated fat and higher in fibre. These meat-free options are widely available, affordable and becoming more socially acceptable in this country.
A recent article strengthened the importance of people considering the impact of their food choices on the environment, not just health. In most climates and settings, the production of meat and dairy foods has more of a negative environmental impact than plant-based foods. Even without following a strict vegetarian diet, frequently replacing meat meals with plant-based alternatives can benefit our health and that of the environment.
Malcolm Forbes – 
Doctor – Yes
A balanced vegetarian diet is healthier than the current diet of most Australians. There is a large body of evidence that has consistently demonstrated vegetarians enjoy lower rates of cardiovascular disease, type 2 diabetes and high blood pressure. A vegetarian Mediterranean diet may also be associated with lower rates of depression, however this relationship is less clear.
I regularly enquire about the diet of my patients and recommend an increase in plant-based foods. While a vegetarian diet is no panacea, it is one easy step to reduce a patient's risk of lifestyle diseases.
Natalie Parletta – 
Nutritionist – Yes
Ample evidence suggests vegetarians live longer and have lower rates of chronic diseases – in part because of their diet and possibly also because people who choose vegetarian diets may be more health conscious anyway. Plant foods, including fruit, vegetables, nuts, seeds and legumes, deliver abundant fibre, nutrients and polyphenols that are essential for a healthy body and mind.